Interactiv4 is now a part of Wam Global
05 May, 2022 / 3 MIN read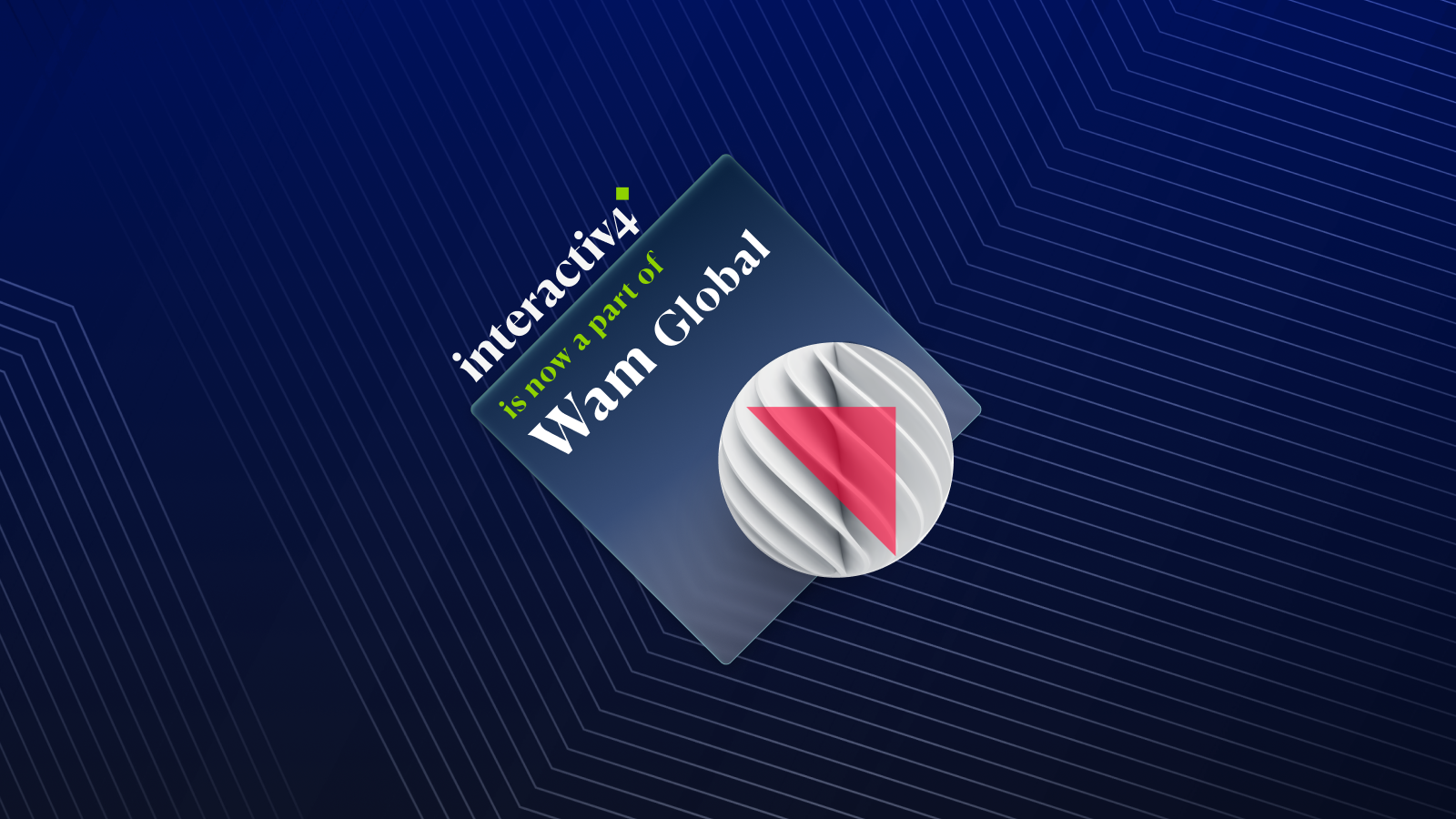 We've been changing, growing, and evolving our entire being for 11 years at Interactiv4. But specifically, the last two years have brought us a lot of change. From a company providing just Magento-focused services, we turned into a provider offering multiple ecommerce platforms including Salesforce Commerce, Shopware, and Mirakl.
We've strengthened our internal processes and developed in-house products and know-how to help our clients get to market faster, increase efficiency, and offer the best solutions for their businesses.
We have grown our team, and made it truly international at its core and in the way we operate.
We've accomplished so much up to this point, and now it's time for the next chapter in our story.
We are facing a completely new stage of growth – joining forces with the Wam Global to accomplish even more together.
Interactiv4 as a part of Wam global
Wam Global is a strategic digitalization consultancy. In them, we found a partner who strives for excellence, uses the latest and greatest in technology and digital. As an organization who has always prided ourselves on doing the same, we're excited to join forces with a company that will help us enhance the opportunities for our team and clients.
With a presence in 13 countries spread across 17 offices, Wam Global will help cover all stages of digital transformation, from project creation to visualization, to eCommerce platform implementation and loyalty strategies.
We're keeping our name, we're keeping our brand, our essence, and our philosophy. We're simply embracing the next chapter of our story to do and achieve more.
How does this change things for our clients?
Everything you've come to learn and love about Interactiv4 is here to stay. Our ecommerce technology and development will continue in the same way, our processes for all of your new and ongoing projects, the team.
The only change you'll feel (and it's a good one) is our ability to offer you more. You'll experience more support, more growth potential, more services, and more tools!
Thanks to Wam Global's marketing strategy experience and knowledge in and around the digital space, we're able to expand our offerings to cover your every need.
✔️ Marketing Strategies Branding, Inbound Marketing, Digital Customer Experience, and Sales Enablement
✔️ Design and Development UX, Design Thinking, eCommerce, Mobile and Web Apps, and Communities
✔️ 360º Marketing SEO, SEM, CRO, Social Media, Content Marketing, and Email Marketing
✔️ Scaling Technology Salesforce solutions, and Genesys
Combining forces with Wam Global presents the best opportunity for us to offer comprehensive growth solutions to all our clients.
Growing stronger together
These new opportunities don't only apply to our clients but to the team too! All of the teams.
Now with more shared years of experience and more stories behind it, everyone benefits from access to a richer pool of tools, technologies, and approaches, and it means we can exchange ideas, experiences, and knowledge and continue to grow professionally.
Now we grow together, in a story that comes from all of us.