Meet Manuel Recio
23 May, 2022 / 4 MIN read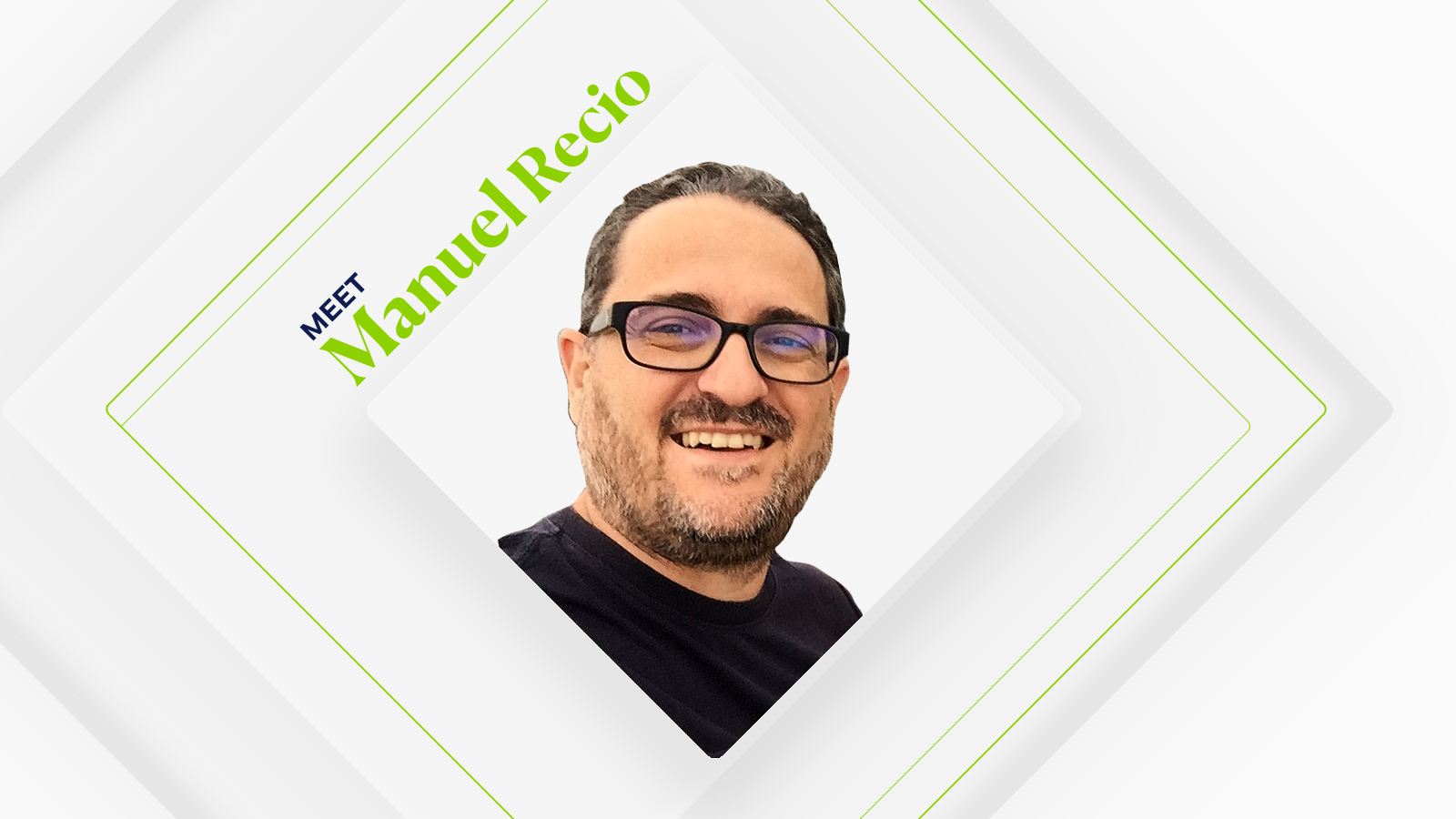 My role in the company
As Client Services Manager, I supervise and coordinate key growth-area projects of our clients. All projects that are in a growth phase from upgrade and regular maintenance work, to introduction of new functionality and expansion to new regions in our tier/department. In my role I'm coordinating the efforts of different teams and business areas to make things happen for our clients, with the best possible service and quality results.
My journey
My career path has always been closely tied with technological innovation projects. One of the experiences I've had in my career was managing the sports brand hummel in Spain and Portugal as its CEO, which was the licensee of its former Danish parent company at the time. 
Aside from internal management and maintenance of international partnerships, I'd also been responsible for carrying out the development of a B2B portal. The goal was to automate and simplify incoming orders and preorders, casting aside the famous "excels" that caused countless headaches for the administration team. That was a real-time example of how technology improved business efficiency and our daily work.
I've also been on the other side of commerce, thinking back to days when I was in the same shoes as our clients, needing help with technology solutions. This not only feels familiar, but helps me to better identify with our customers to understand exactly how we can help them.
8 years ago I made the leap into the world of ecommerce when I joined a startup working on innovative solutions for integrating marketplaces. I've coordinated tech teams in both marketplace and merchants' side to better connect stores, softwares, and marketplaces. This is where I was first confronted with the difficulty that brands face when standardizing their catalog and order management under third-party platforms. Helping to remedy this for multiple brands allowed me to develop and hone skills I have carried further into my career.
Next I moved on to the world of Magento by joining one of the ecommerce agencies working with the platform, which brought me even further forward to interactiv4. From here, I've had great experiences and opportunities that have allowed me to develop and practically improve all the skills I've acquired so far in my professional life.
What motivates me
The things that motivate me in my day to day are:
My family, without a doubt. This is my main focus and my goal in life is to continually grow and nurture it.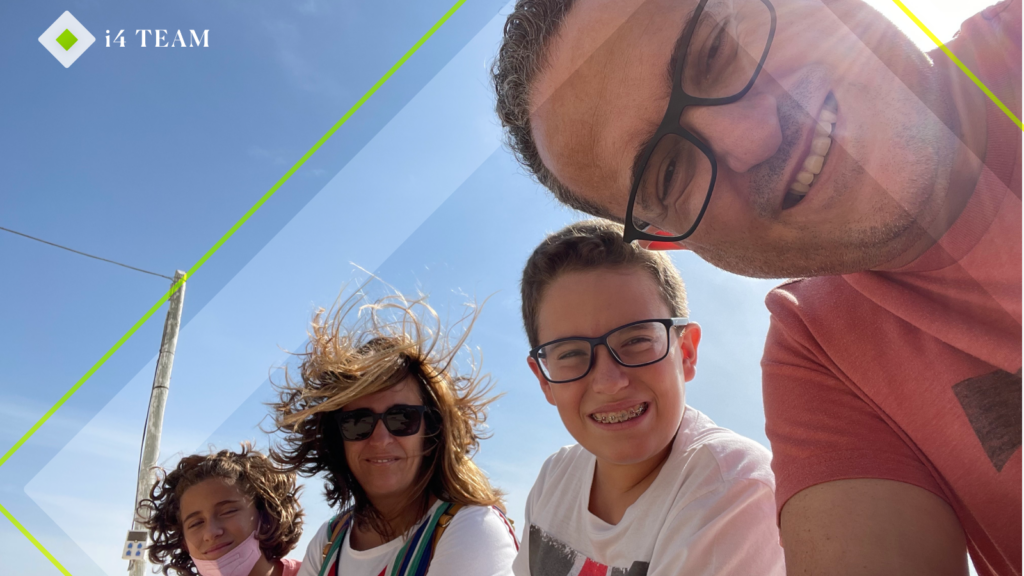 Overcoming new challenges. I don't like when things get too stale and monotonous.
The balance of managing uncertainty that is often uncomfortable. This allows me to adapt to the unexpected, and face new and complicated decision-making moments in the best possible way.
Travel, get to know places, lose myself in nature, in a town, in the countryside, and of course a good meal.
The best part of my day versus the worst part of my day
The best moment is when you cross-off everything in your to-do list! Those precious few "seconds" are worth their weight in gold when they happen ;P
The worst moment comes late on a Friday evening, you've just logged off for the weekend and are on your way out the door to see your family… and an emergency appears out of nowhere. Fortunately, they are few and far between, and with a team like i4, they are brought back under control and remedied immediately.
A word of advice I'd give to my younger self
I wouldn't give any advice to my past self. Life is not always easy, but we often learn most from difficult moments no matter how hard the circumstances may be. Ad astra per aspera / A rough road leads to the stars.
Perhaps, a more general acknowledgement I would give myself is the one thing I always tell my children: "Be happy". The time we waste being angry or sad should be minimized, and instead we should spread happiness to the maximum.
An advice for someone who wants to pursue a career path similar to mine
Be constant, empathetic and above all proactive. In the end you will surround yourself with the best caliber people, and that perfect moment will arrive when you least expect it.
Ahhh and I almost forgot this one, always listen because…minds are like parachutes, they only function when open.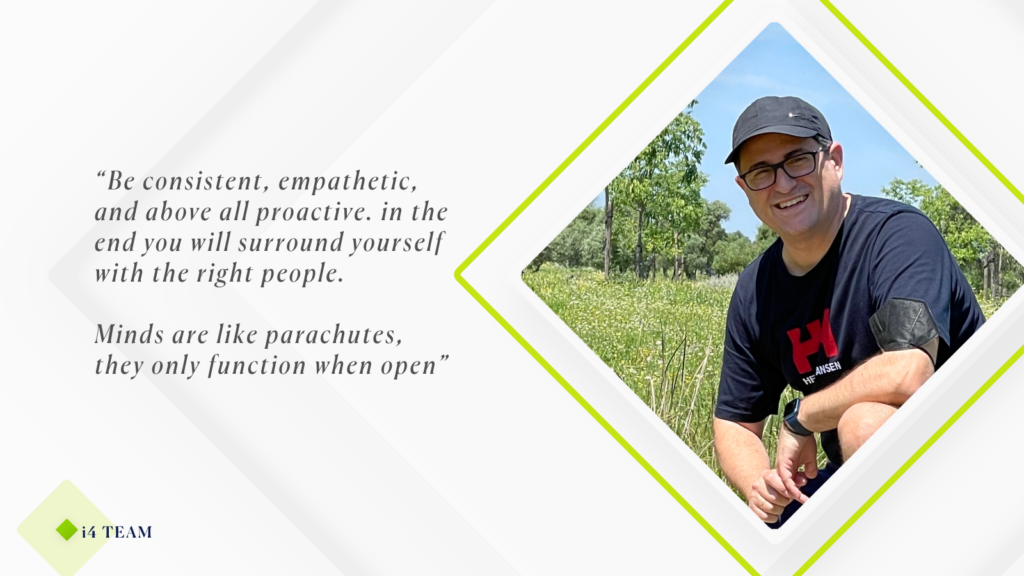 Things that surprised me from Interactiv4
The human element.
They are truly great people in the broadest sense of the word, regardless of their position, responsibility, or whatever, they are always by your side. It goes without saying that the technical quality, and the working capabilities of each and every one of them are amazing. But it is their willingness to help each other that makes this a truly great company.