Magento 2 – What Does This Mean for Merchants?
19 Dec, 2014 / 2 MIN read

Today the Magento developer community got a an update from Magento on the release of the Magento 2 Developer Beta. The developer community is excited and diving into the code, using github and checking out the new service contracts. But what does this mean for merchants?
What is Magento 2?
Magento 2 is a complete refactoring of the Magento software. Basically Magento is being rebuilt using modern web stack (PHP, MySQL and the Zend Framework). With the feedback and experience in the past 5 years with Magento 1, many things were rethought and built for more efficiency, ease of use and stability. Magento 2 will also have major performance upgrades and will out perform Magento 1 by 20%.
Want to see what it looks like? View our Slideshow of Luma, the demo theme here.
When is Magento 2 coming?
The Developer Beta was released today, December 18th 2014. The software is ready for use by developers, to start reviewing and give feedback to magento. It is not ready for production and it doesn't even include online payment methods yet, so it can not be used for live sites yet. Everything is not completely done, it will be completed by the
Merchant Beta which will be released in March 2015. Expect to see a demo of Magento 2 at Imagine in April 2015. It will then be released for 1.0 in Q4 2015.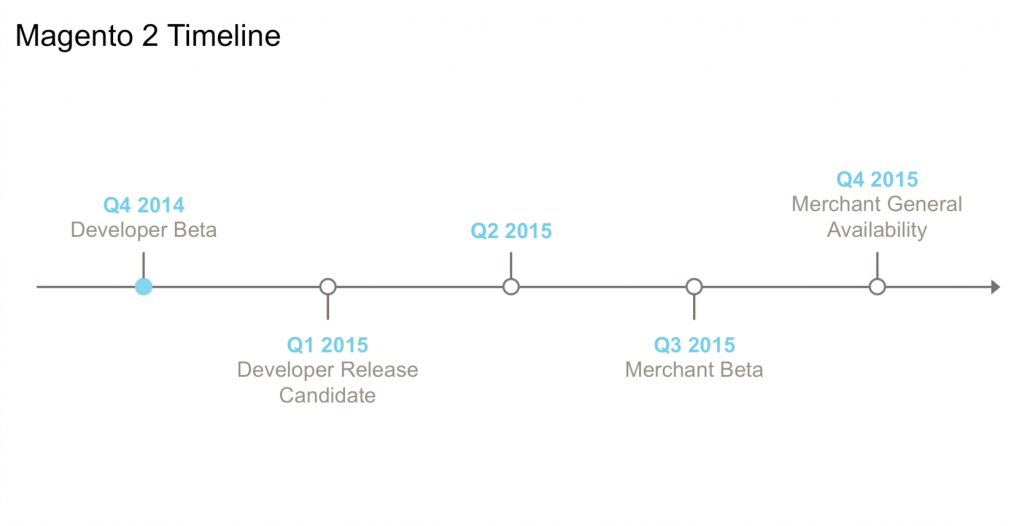 How will this effect my Magento store?
Magento will continue to support Magento 1.x products for three years, so until 2018. But they will discontinue adding new features to Magento 1.x. Your store will probably remain unaffected in 2015. If you don't upgrade in 2015 you should plan to upgrade to Magento 2 in 2016 or 2017. Extension developers will be building for Magento 2, training their developers for Magento 2 and Magento 2 will be a better product. You will have lots of reasons to upgrade.
Upgrading from Magento 1.x Magento 2
It still unclear what the exact process will be for upgrading from Magento 1.x to Magento 2. They are aware this needs to be an well defined process for Merchants and Developers and have stated that there will be a migration path for core data (Products, Catalog, Customers, Orders). But themes will have to totally refactored as the structure is different. Upgrading is going to be an effort.
What's happening with Magento Connect?
Magento Connect is getting a log awaited overhaul as well, it is being totally replaced with a real app store where Magento will collect payments for the . They will make the process easier for searching and finding the right extensions and there will be a verification process for extension developers. No more free for all. There will be less extensions of higher quality and Merchants will be able to find them easier. The timeline is similar to Magento 2 with a beta in March 2014 and launch in Q4 2015. Expect to see a demo of this at Imagine, too!