Meet Carla
27 Jan, 2021 / 5 MIN read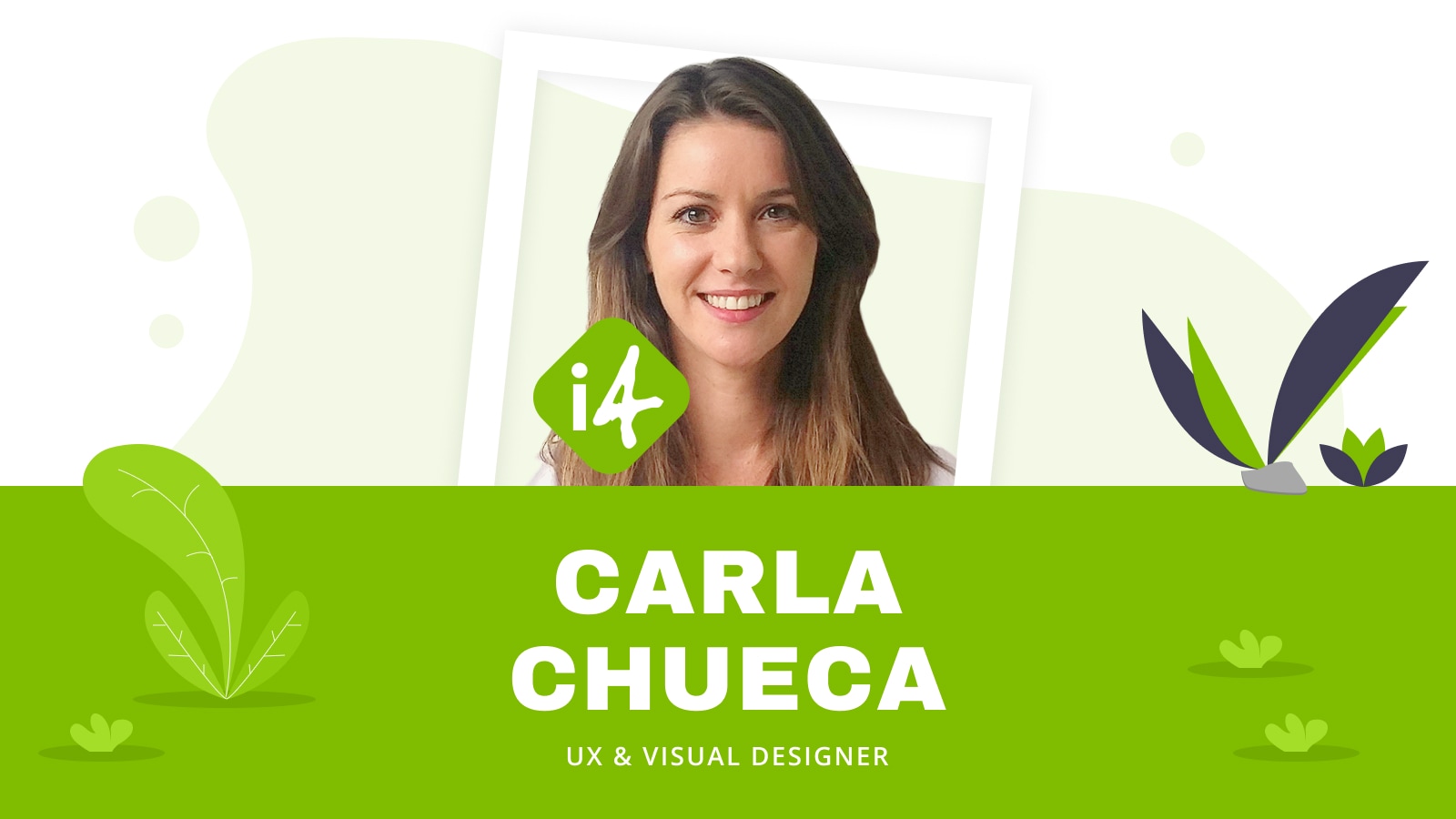 Carla is one of our design and UX specialists and she is the head, together with Ana, of our Experience Design department..
Can you tell us a bit about yourself?
Ok! My name is Carla Chueca and I work as a UX UI Designer at Interactiv4. I am from Zaragoza ?, although I've been living in Madrid for 11 years. I came to Madrid to do a Master's degree, but I fell in love with the city and I decided to stay.
Personally, I'm a huge movie and TV-show fan (I especially enjoy horror and comedy), and I love music in general. But what I enjoy the most is traveling: visiting a city where everything is new to me and discovering the local culture, its cuisine, its people… I think this is what I'm missing the most in 2020. I also do sports: this year I began surfing in earnest, although I'm still not very good at it… ?
You have been with us since 2019. What do you remember about your first day?
I can't remember it exactly, but I am sure I was really nervous. I remember that Ana, my design colleague, introduced me to everyone and showed me around. I probably asked her a million questions that day and drove her mad (I'm sorry, Ana!). At the end of the day I remember having a good feeling about the company in general: everyone seemed really nice and there was a good informal and friendly atmosphere.
You work as a UX & Visual Designer. What is your education and training, where did you start, and why were you interested in eCommerce?
I started out in design in Zaragoza, where I took a Higher Vocational Training course in Graphic Design and Editorial Production. I knew from the very start that I wanted to focus my career on the online world, and it was then when I came to Madrid to take a Master's Degree in Website Design and Layout. I started working as a website and front-end designer right away. My career has always been linked to eCommerce, and I've worked for end clients and also for agencies.
At a UX level, eCommerce projects are a huge challenge, since you need to find the balance between offering a good user experience and, at the same time, getting users to buy products without losing focus on the business goals. All this makes eCommerce fascinating.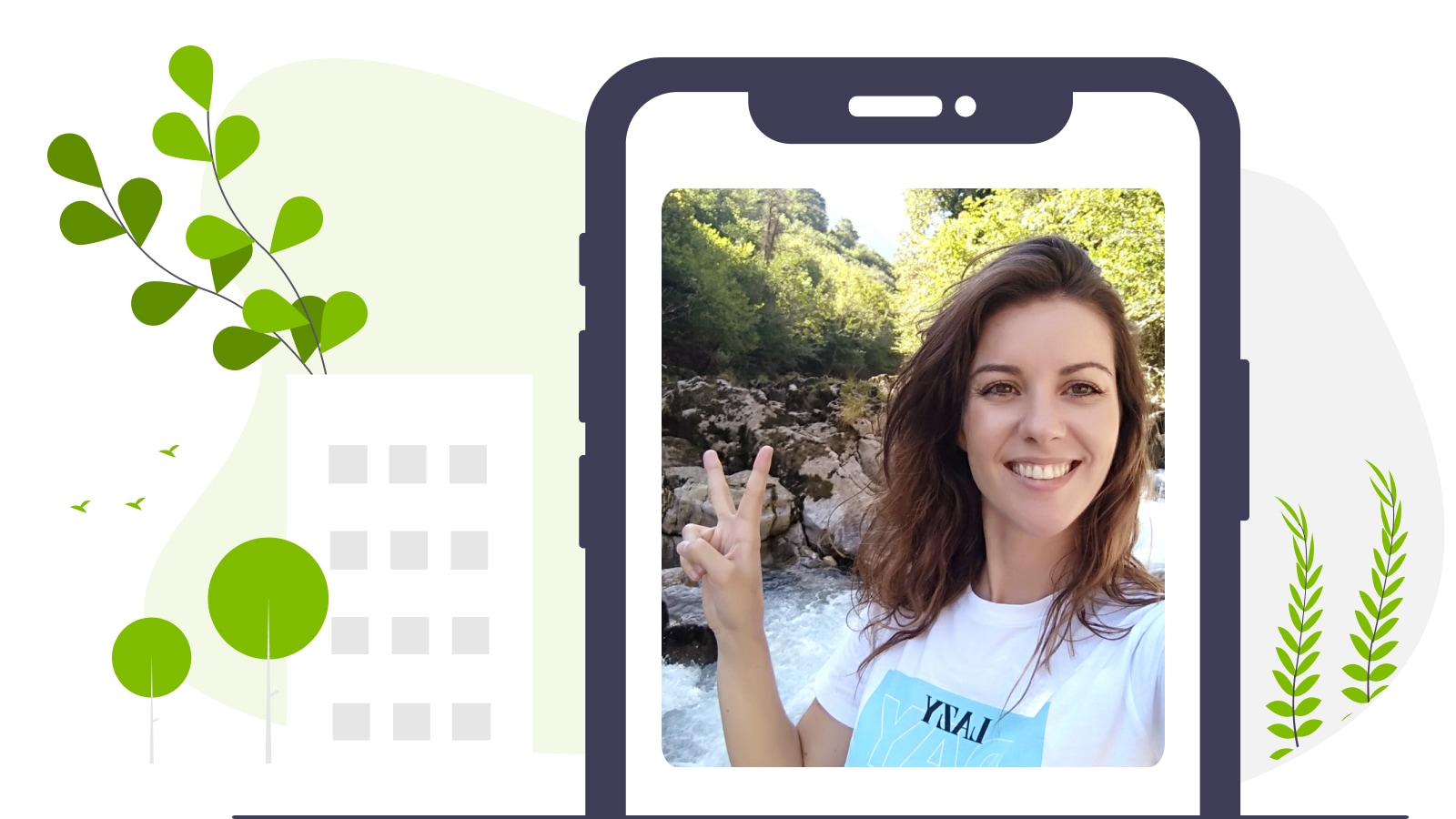 What does your job entail? How did you become a UX & Visual Designer?
Well… it took me some time to get here. I studied Education at the University of Zaragoza, but in second year I realized that it was not my cup of tea. I've always been a creative person, so I decided to study Graphic Design. This immediately took me to the online world, and I started working as a web and front-end designer, and I also dabbled at marketing and analytics over the years.
My first contact with User Experience was about 8 years ago, when I first saw some wireframes and navigation flows and I found them extremely interesting. Two years ago I decided to take a Master's Degree in UX / UI Design at Ironhack and I realized that all the things that I'd studied before were (highly) useful in this new stage.
Can you describe your typical work day?
I always try to start at the same time, around 8:30 AM, since this helps me organize my work day better. With a cup of coffee by my side, I check my email and Slack to organize my tasks and see if there is something urgent I need to take care of. If I don't have a very busy day, I like to do some reading and catch up with newsletters on UX, or do some research on plug-ins or tools. After that, I usually coordinate with Ana and I start working on the project assigned to me. I spend the rest of the day mainly on Figma and Sketch, I stop for a short lunch break, and then I continue working until the end of my work day.
Do you listen to music while you work? What kind of music?
I usually do, except when I have to be really focused on a task. I listen to pretty much anything, from rock, to blues, metal, disco… and lately even to indie. It depends on the day and on the moment: when I have a lot of work to do, I usually choose hard-rocking music to work as hard as I can, such as Foo Fighters, Muse or Volbeat. On quieter days I usually listen to new bands, podcasts or, generally speaking, to softer music.
What is your work space like? Can you describe your setup?
I work from my living room, which is the brightest room in my apartment. My desk is right against a window, and I love being able to look away from the computer from time to time. I work on my laptop and I have an additional monitor, and also a notebook that I use to sketch designs and take notes. I am one of those people who still like using pen and paper!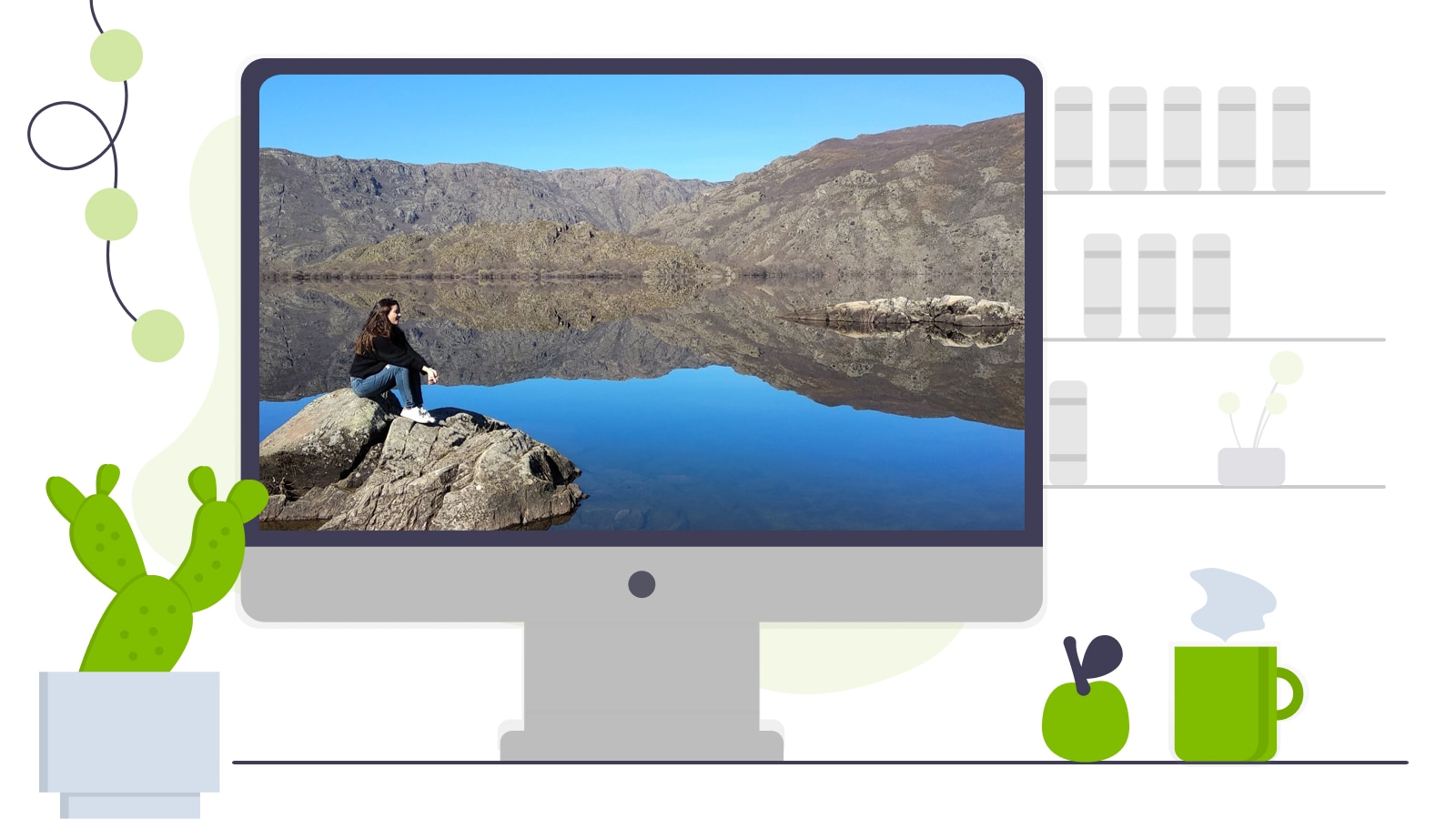 What project are you most proud of?
Mmm, this is a tough question… The first that comes to mind is the BIC project: it was shortly after I came to Interactiv4 and at that moment I didn't have many clues as to what they were seeking for their B2B or for their look and feel, but they loved the result and they congratulated the whole team. At a usability level, one of the most interesting challenges was Santa Eulalia's checkout: a highly customized checkout with several possible flows depending on the type of delivery or pre-order.
What kind of person are you: the one who asks questions, the one who is asked questions, or the one who researches?
A little bit of each! Like all people from Zaragoza, I'm a bit stubborn when I have to find something out, so I usually do a lot of research before asking (except if I don't have the time or if I know that I can get the answer from a colleague right away).
Before asking a colleague I usually "ask the bear". In my first job we had a teddy bear, and whenever we had a question, we had to ask him first before interrupting other people. It's surprising how many times one can find the answer to a question just by asking it out loud!
And finally… Who do you nominate for the next interview?
I've been listening to Volbeat since I answered the question about music… so my nominee can be none other than @Álvaro Hérnandez! He's one of our best and nicest PMs, and I'm sure he will surprise us with his interview.