Top 5 Upcoming Ecommerce Conferences in Europe
13 Oct, 2022 / 6 MIN read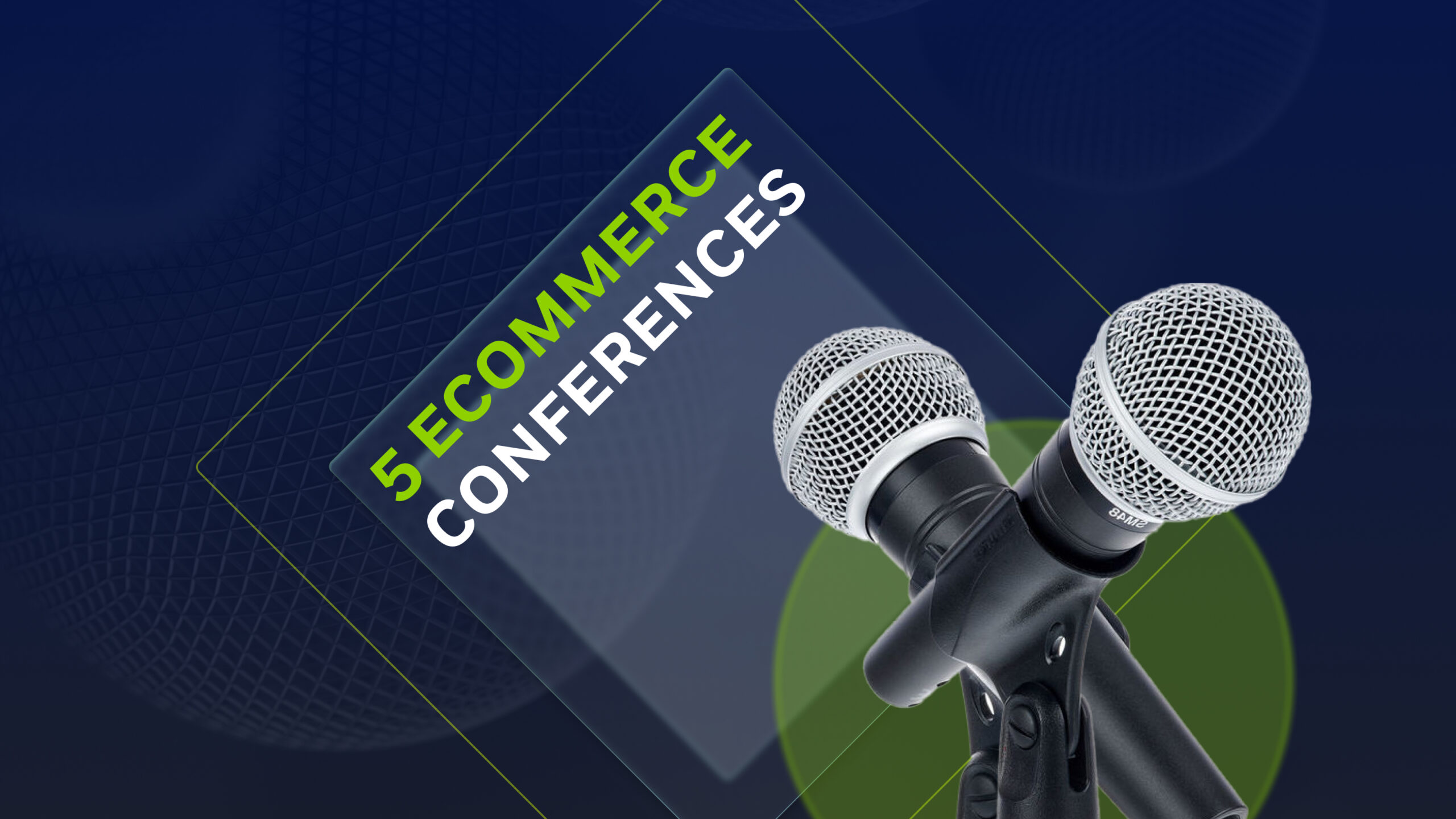 You may be reading Ecommerce News, Practical Commerce, or Forbes daily. You may be listening to the podcasts of ecommerce industry leaders. But we know what you really miss — finally meeting face to face with like-minded people and discussing the exciting, disruptive, crazy news in the ecommerce industry. We know we certainly do!
And because we can finally stand closer than two feet apart from each other and flock in large groups, why not attend some ecommerce conferences this year? Europe will be hosting some interesting ones in the next couple of months, so you can choose the one that excites you most.
To save you some time, we've already gone through their agendas and picked out the most relevant information. So all you have to do is read this article, select the conference (or conferences) you want to attend, buy the tickets, and start counting down the days.
Why ecommerce conferences rock
An ecommerce conference is an excellent place to discover, learn, and try. Here are several reasons why you shouldn't miss out on these valuable events:
Discover new business trends. Most business events feature speakers who discuss the latest industry trends. This can give you an idea of what consumers expect from online shopping (or will expect in the nearest year). You may also find out what laws or regulations have changed in the world of ecommerce. Plus, at trade shows, you can meet well-known software providers in person and take their software for a spin.

Sharpen your skills. Many conferences offer workshops where you can learn new skills and put them into practice immediately. This may include something like mastering an omnichannel strategy, or finding new and exciting ways to optimize your existing workflows that can be easily implemented.
Meet like-minded people. The best part about meeting face to face is the interactions with other people in your field. These new relationships and contacts could help forge life-long connections that make for positive impacts in both your business over time, and help achieve better growth, professionally and personally.
Find a solution provider. At many conferences, companies will present their products and services. This is your chance to meet a reliable provider of solutions or exhibit your own products.
Promote your brand. Ecommerce events and trade shows in particular, are one of the few venues where you can reach your potential customers on par with your larger competitors. In addition to displaying your products, you can give away promotional items or organize giveaways to engage people. This will undoubtedly increase public interest in your brand.

Are you convinced yet? We hope you are because these ecommerce conferences won't attend themselves!
Must-attend ecommerce conferences 2022
Whether you're looking for technology to scale your business, improving visibility into your supply chain, or learning some new marketing strategies, attending the conferences in this list can get you on the right track.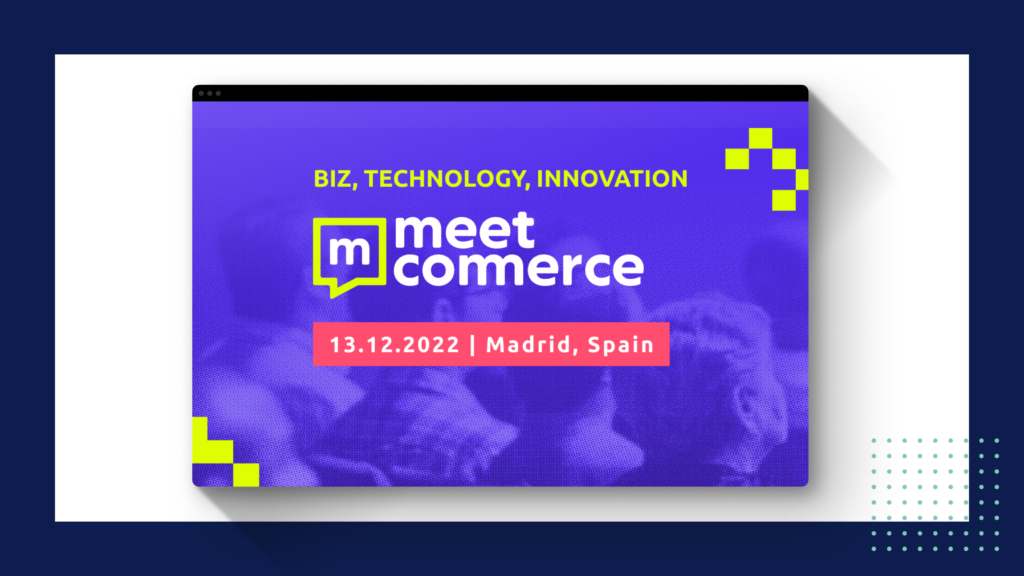 Date: December 13, 2022
Location: Madrid, Spain
Coming in at the top of our list is Meet Commerce Spain, because we are just too excited to keep it till the end of the post.
Together with our friends at Snowdog, this year we are excited to start a completely new conference series – Meet Commerce. The idea is to pull back the curtain and open the doors to even more ecommerce technologies available on the market.
The conference will bring together more than 550+ professionals in the ecommerce industry – business and technology leaders, ecommerce practitioners, growth specialists, customer experience managers, and digital experts. With a full day of talks, 3 tracks, and over 40 speakers, it's the best place to meet and bridge the gap between commerce and technology. Not to mention an after party you won't want to miss ;).
The topics that will be covered:
How to get most of ecommerce trends
How to operate better with technologies
How to expand to new markets and sell globally
How to build the greatest ecommerce experiences
How to stand out among the competition and more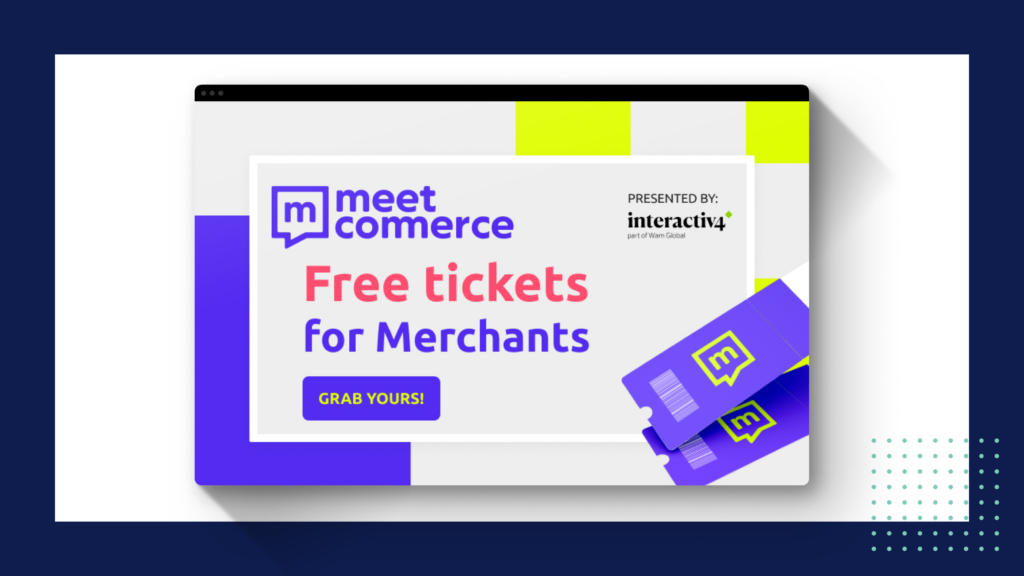 We have also good news for merchants, this year the entrance to the conference is 100% free for you! Claim your free pass here.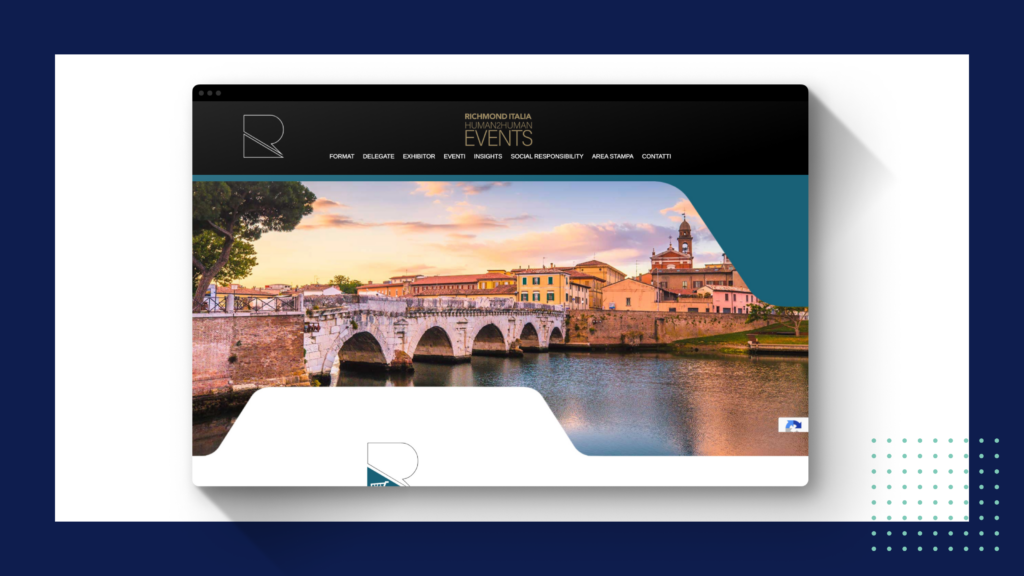 Date: October 23-25, 2022
Location: Rimini, Italy
Richmond E-Commerce Forum Autumn is another conference focused on business networking in the online retail industry. The event aims to bring together supply and demand representatives from the European ecommerce market.
While some will be attending presentations and seminars, other visitors (delegates) and suppliers (exhibitors) can meet to discuss common issues. Participants can make appointments based on the interest of the other participants. This ensures that you only meet people who are genuinely interested in the industry you represent.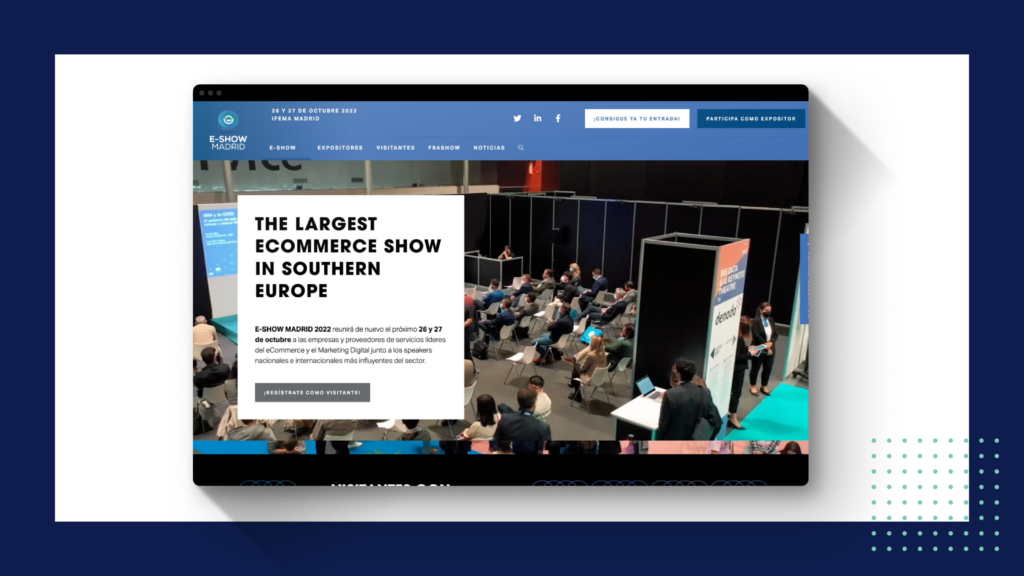 Date: October 26-27, 2022
Location: Madrid, Spain
eShow Madrid is one of the largest ecommerce conferences in Europe. It will bring together more than 8,000 attendees and more than 250 exhibitors. Among them are C-level representatives of leading tech companies and technology service providers, including UPS, SAP, and American Express.
The conference will offer a versatile program of events with the most influential national and international speakers in the sector. They will cover the latest challenges in ecommerce and share their success stories on topics like:
Evolution of delivery
Digitization, sustainability, and "quick commerce"
Low-code platforms
Sustainability in ecommerce
Omnichannel to improve the shopping process
Social commerce – shopping on social networks
Big data, artificial intelligence, and chatbots
Last mile challenges
Black Friday strategies
At eShow, you can discuss your insights and concerns about the development of the industry and expand your professional contacts with partners, suppliers, and potential customers.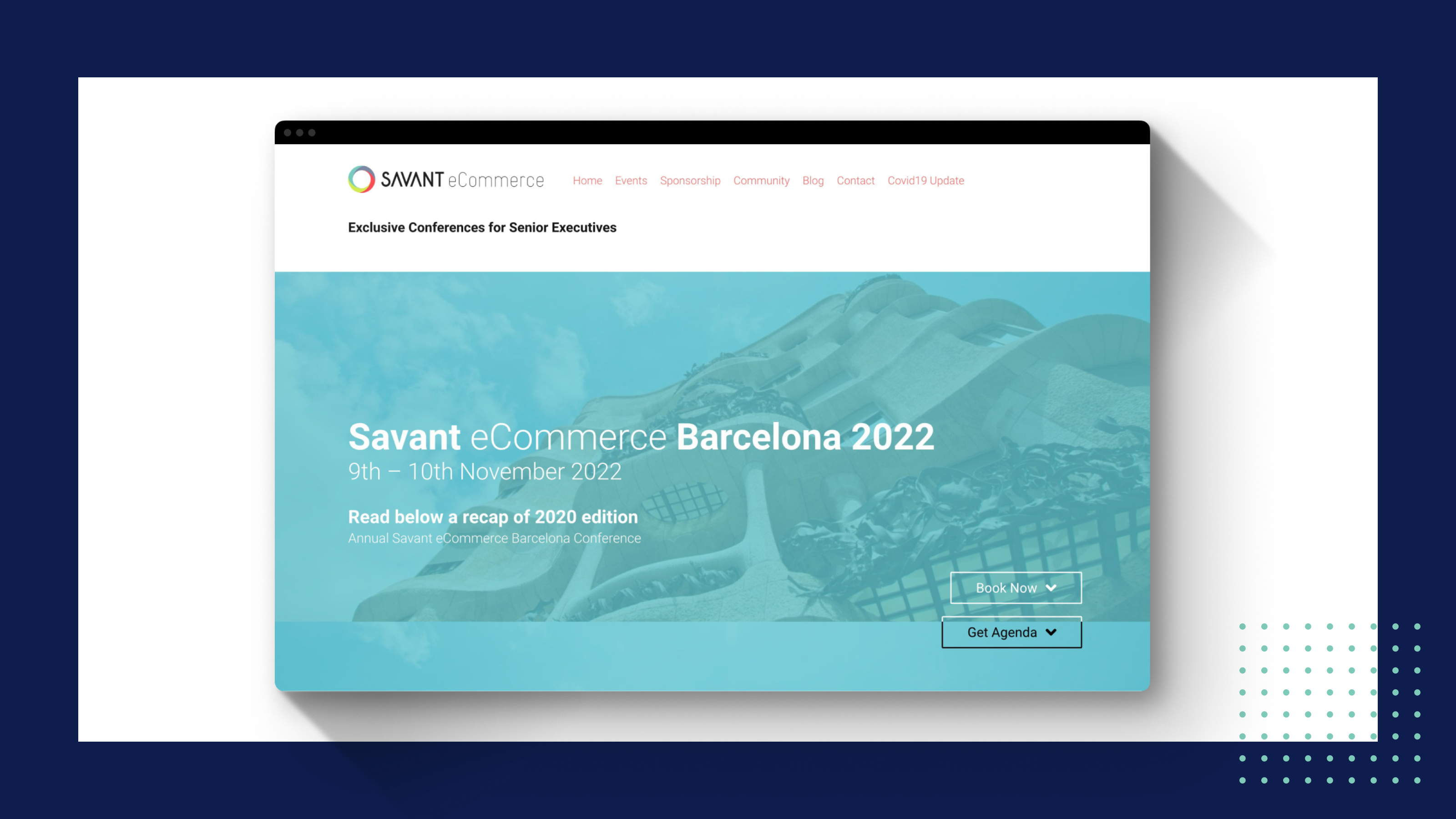 Date: November 9-10, 2022
Location: Barcelona, Spain
Savant eCommerce is a conference for thought leaders and ecommerce specialists who want to stay up to date on the latest trends and build meaningful relationships within the ecommerce network.
Fashion, consumer electronics, luxury goods, home goods, beauty, grocery, travel, and entertainment are just a few of the sectors represented at Savant eCommerce. It will be interesting for both B2B and B2C players.
At the conference, more than 35 market leaders will present innovative concepts, case studies, and solutions for global ecommerce expansion. The main topics that will be discussed at the conference are:
Personalization of marketing
Customer loyalty
Omnichannel experience
Delivery optimization
Ecommerce order fulfillment
International retail on marketplaces
Artificial intelligence and big data
The event will explore how omnichannel marketing needs to work. Also, you will learn how AI can help create scalable customer personalization.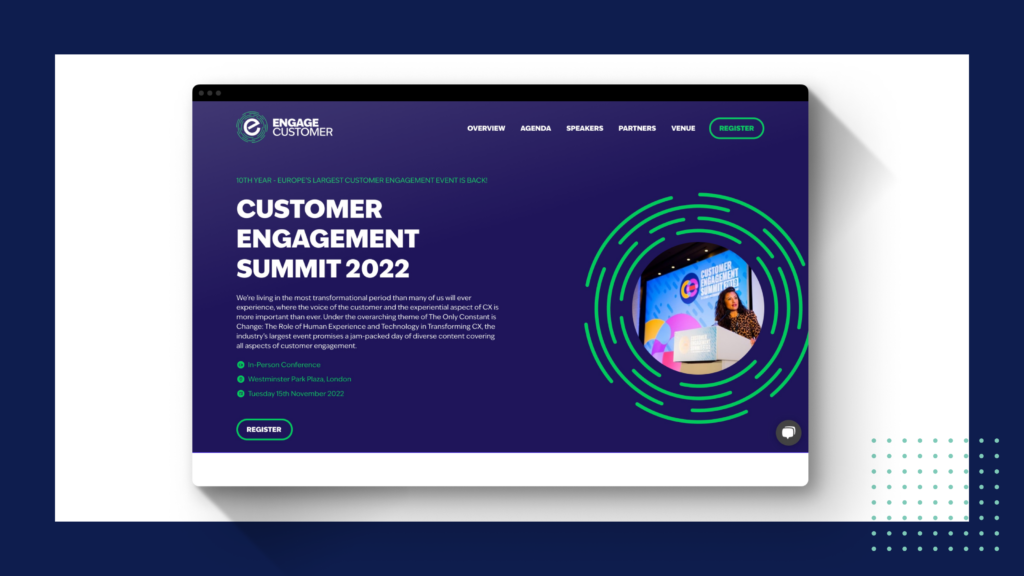 Date: November 15, 2022
Location: London, UK
Customer Engagement Summit is a conference for professionals in the field of IT/CX. It is considered one of the largest customer engagement events in Europe with more than 100 exclusive presentations.
The conference features high-profile speakers from leading technology and retail brands such as Microsoft, Linkedin, IKEA, and Nivea. They will use their real-world experiences and case studies to highlight the following CX topics:
Digital transformation of customer engagement
Innovation in the contact center
The evolution of CX service design
CX strategies for the customer
Artificial intelligence and robotics
Connecting CX strategy and culture
Engaging with the digital customer across the enterprise
The future of CX
Join this conference to learn how to better understand your customers' needs and meet their expectations in today's increasingly digital world of human interaction.
Ready? Go book those tickets!
Given today's tough business environment, it's important to stay on top of ecommerce trends and discuss them with your peers. In the age of virtual collaboration and remote partnerships, live ecommerce conferences still come with their benefits — a single package of networking, learning, and entertainment.
Pick one (or several) of the e-commerce conferences taking place this fall and make sure your company is growing in line with the pace of ecommerce development.
And the Interactiv4 team is ready to assist you in turning ideas gained at those conferences into real ecommerce software solutions. Contact us to discuss your project.