MRW Extension for Adobe Commerce and Magento 2
29 Jul, 2022 / 5 MIN read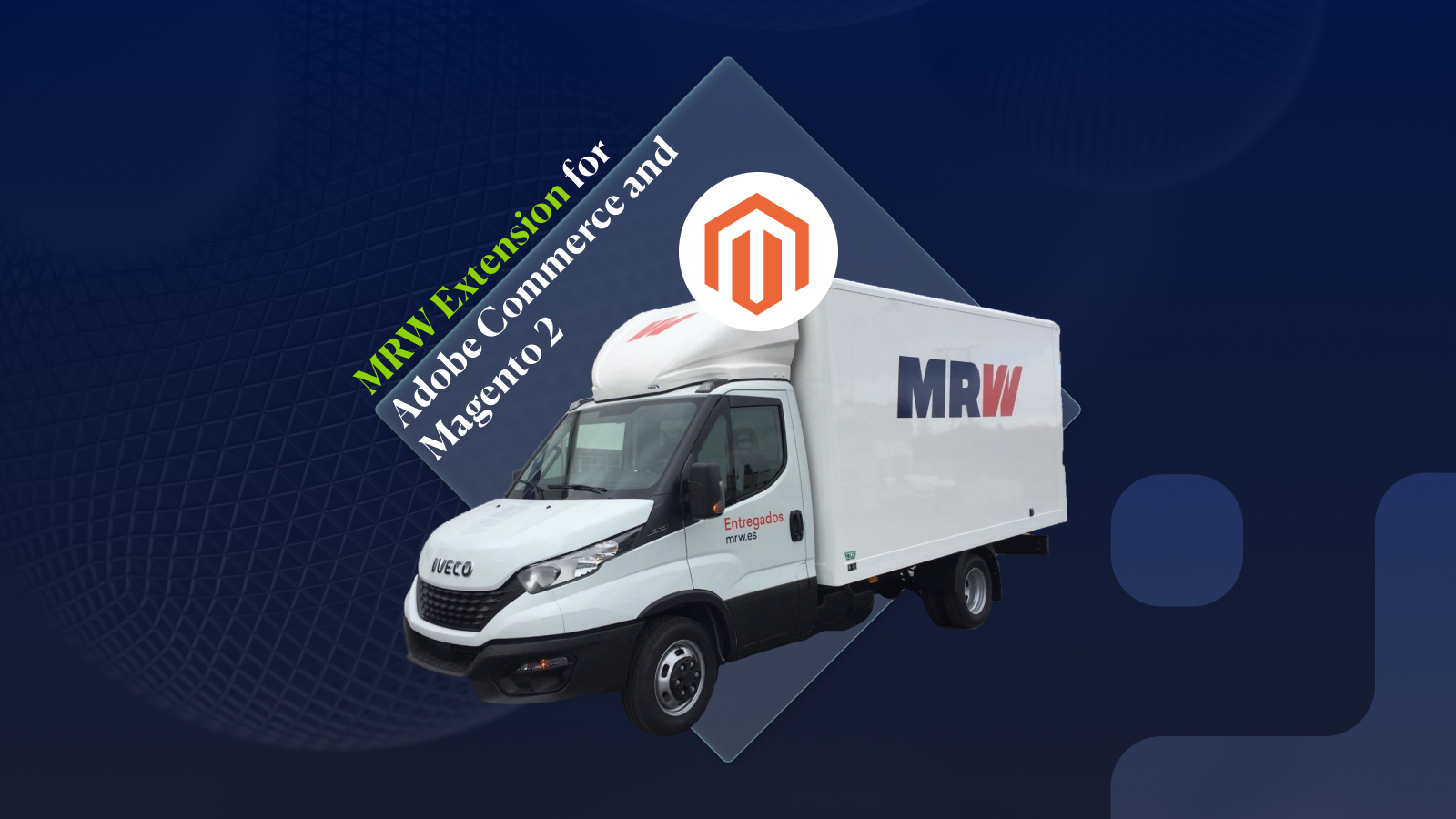 At Interactiv4, we're in the business of helping companies manage and grow their eCommerce spaces. In the last few years, we've had the chance to partner with some truly amazing clients to develop solutions that have improved the world of eCommerce. 
One of them is MRW, a Spanish courier company which specializes in express national and international shipping services.
MRW supports more than 15.000 online stores for fast, safe, and secure logistic services and payment processing. As a leader in the eCommerce realm in Spain, Portugal, Gibraltar, and Andorra, they've become synonymous with sector specialists for all things eCommerce, and have a large following of clients to prove it.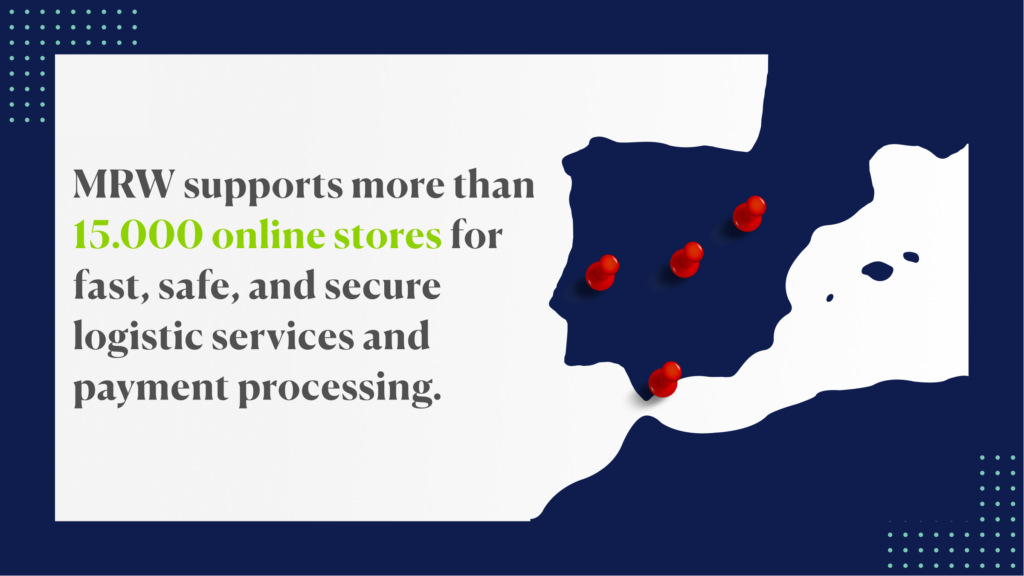 The company elected Interactiv4 to develop an official extension to simplify integration of MRW shipping solutions with leading ecommerce platforms Adobe Commerce and Magento Open Source formerly known as Magento 2. 
The extension was developed by our team and is now ready to serve its goal – quick and easy-to-use connections to Magento stores with MRW shipping. Let's take a look at the solution and an array of options it offers.
MRW extension overview
The MRW extension is compatible with Adobe Commerce and Magento Open Source versions 2.3.6 and 2.4.3 and can be customized to fit your business; from shipping methods to service types, rate information, tracking, and more. Out of the box you can expect the following options:
Integrated shipment tracking.
Package quantity specification for each order, and item inventory for each package.
Print MRW shipping labels to attach to your packages.
Custom shipping prices management through an intuitive spreadsheet import.
Cash on Delivery payment option (percentage, fixed, minimum Cash On Delivery management).
Easy to read rates definition screen with rates based on the order price and destination (Price vs Destination).
Optional disabling of shipping methods if a fixed weight or price is exceeded.
Generation of shipments and shipping labels in bulk.
Let's take a closer look at a few of the features that will provide positive shipping experiences of your customers, and improve the lives of your operational teams.
Several delivery options
It's no secret that customers want a choice, especially when it comes to delivery options. MRW provides various shipping methods, so their customers have the option to select the one that best caters to their needs. MRW's Magento extension reflects this offering and includes the following shipping possibilities at checkout:
Shipping before 10:00 a.m.
Urgent same-day shipping.
Economical shipping options.
Express delivery of documents.
Delivery between 9:00 a.m. and 7:00 p.m.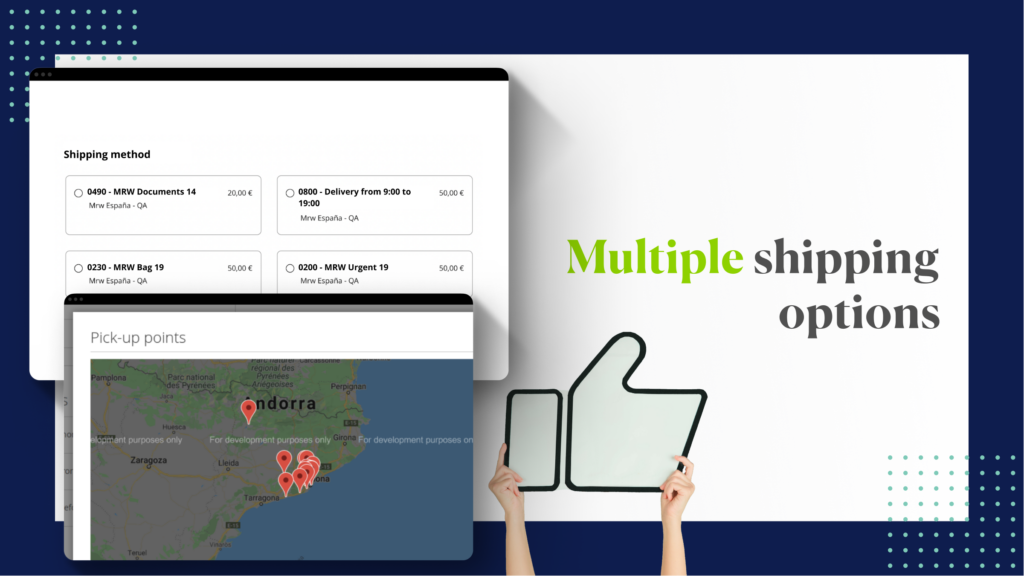 Shipping directly to an MRW collection point is also made simple and easy with the help of an intuitive map for location selection. This way, customers can select and send their orders to an MRW office for safe and secure reception and pick-up.
Cash on delivery
MRW allows clients to pay with Cash on Delivery (COD) in your Magento store. Cash on Delivery works as both a payment method and a delivery method and can be easily configured from the admin panel. However, please note that COD's can only be used in Spain, Portugal, and Andorra for now.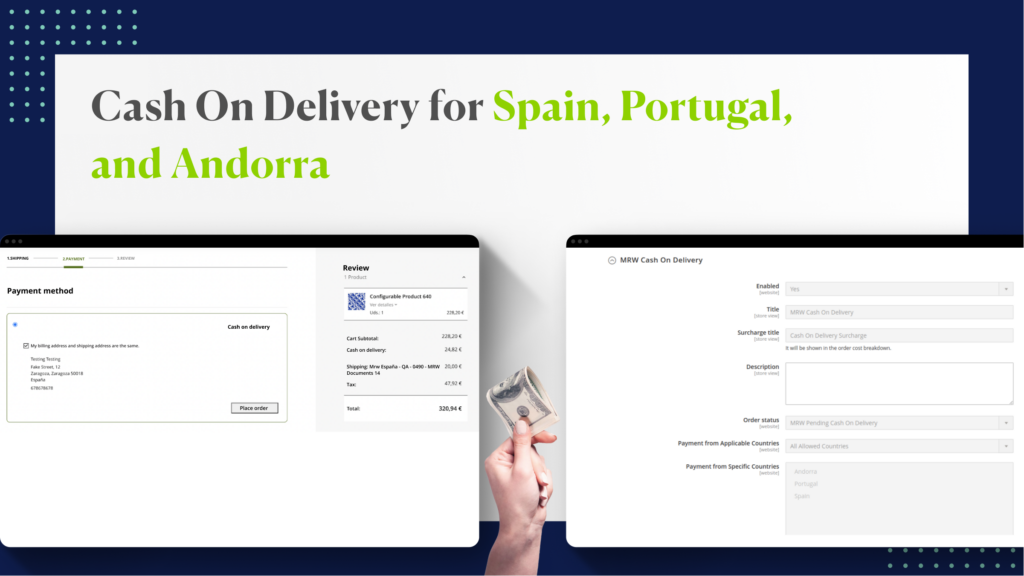 Price management and configuration
The MRW extension also comes with a built-in price manager which allows you to configure the prices of each of the individual MRW services you'd like to include, dependent on a series of different aspects, such as:
Price or total weight of the order.
Shipping country, city, and zip code.
Cost calculation for the Cash On Delivery payment option either by fixed cost, or percentage of the order price.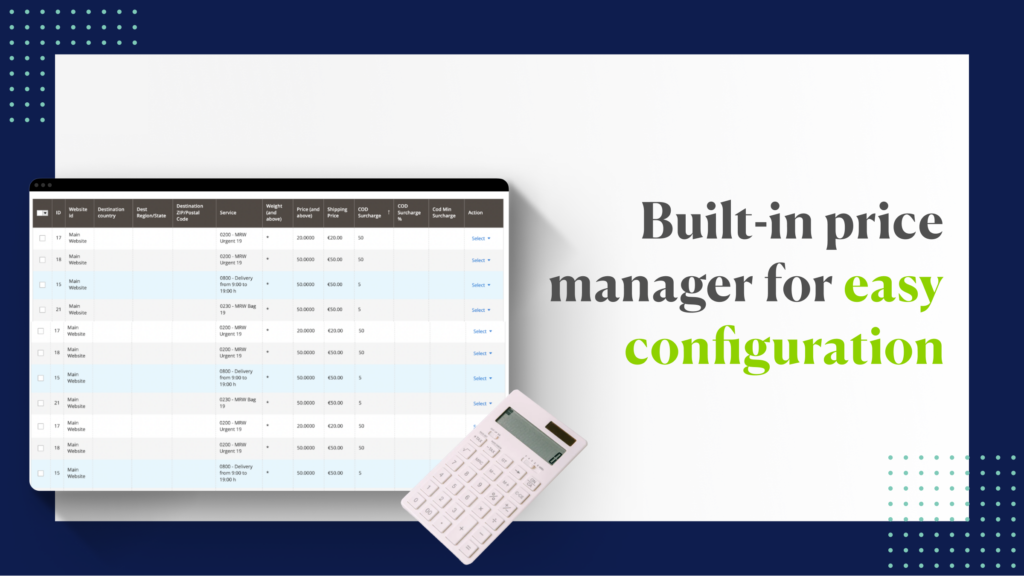 This solution gives you enough flexibility to set up delivery pricing policies that work best for your business. Delivery pricing can make or break your business since this is one of the most common reasons customers abandon their carts, so having the option to adjust this price is 100% beneficial for your ecommerce business. 
Package label printing
One more goodie of the extension – package labels. The package labels can be printed directly from the admin area in the MRW printer, or as a PDF through an ordinary printer. Once you've packed up your boxes and they're ready to ship, you can send the order to shipping. By selecting the "See Shipping" menu under Sales⟶Shipments, the printing process is just a few clicks away.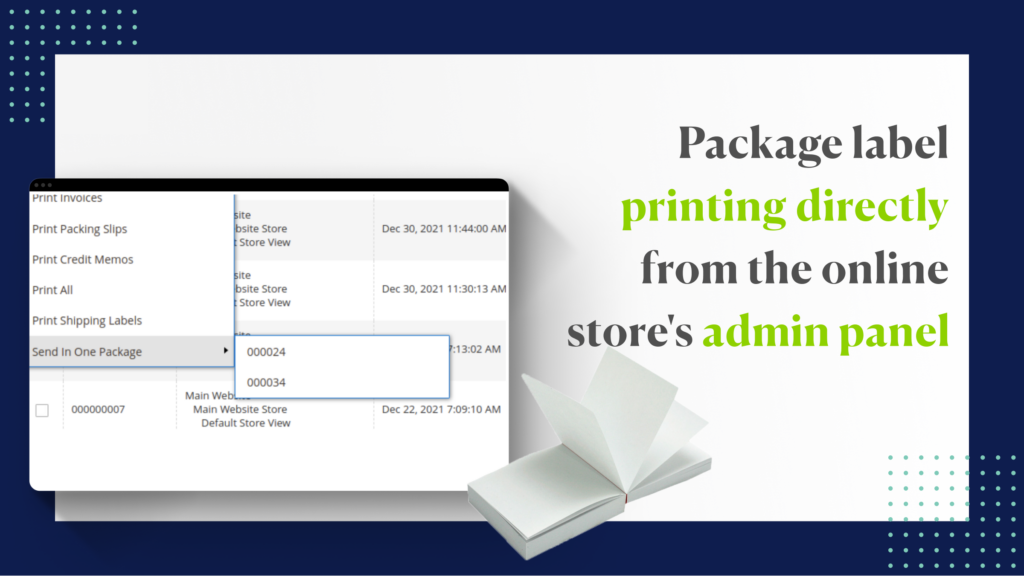 Integrated shipment tracking
Now that your products are bundled up for their journey and the shipping labels are attached, it's time to send them on their way. At any time, it's quick and easy to get a status update on your package by accessing the Sales > Shipments menu, and selecting the shipment for a status update. From the Shipping and Tracking Information", select "Track this shipment" and you'll have real-time updates for your and your clients' peace of mind.
Direct integration with the MRW API
By directly integrating with the MRW API, even more features and possibilities can be unlocked:
Setup and management of multiple MRW accounts.
Order export to MRW directly to make and confirm shipment.
Cancellation of orders.
Generation of MRW shipping labels.
Online tracking of orders.
Additionally, the log manager allows anyone with access to collect insights from the magento admin area of shipment status and tracking at all times. This further illustrates the integrated connection and enhanced communication between Magento and the MRW API
These are just a few examples of what you can expect by adding the MRW extension to your Magento store. While it's important to consider the look and feel of your store to attract customers and hold their attention, it's equally important to ensure that they receive their products quickly, safely, and directly.
By utilizing the MRW extension for all your shipping needs, you not only have direct access to a highly-valuable market solution, but you'll have direct access to one of the industry leading logistics and payment providers eCommerce experts have come to rely on with decades of history and experience, and that spells peace of mind.
For more information on our MRW Extension for Magento, feel free to get in touch with us and we'll help you get started. Or get in touch with MRW directly.