Meet Emilio
24 Oct, 2022 / 6 MIN read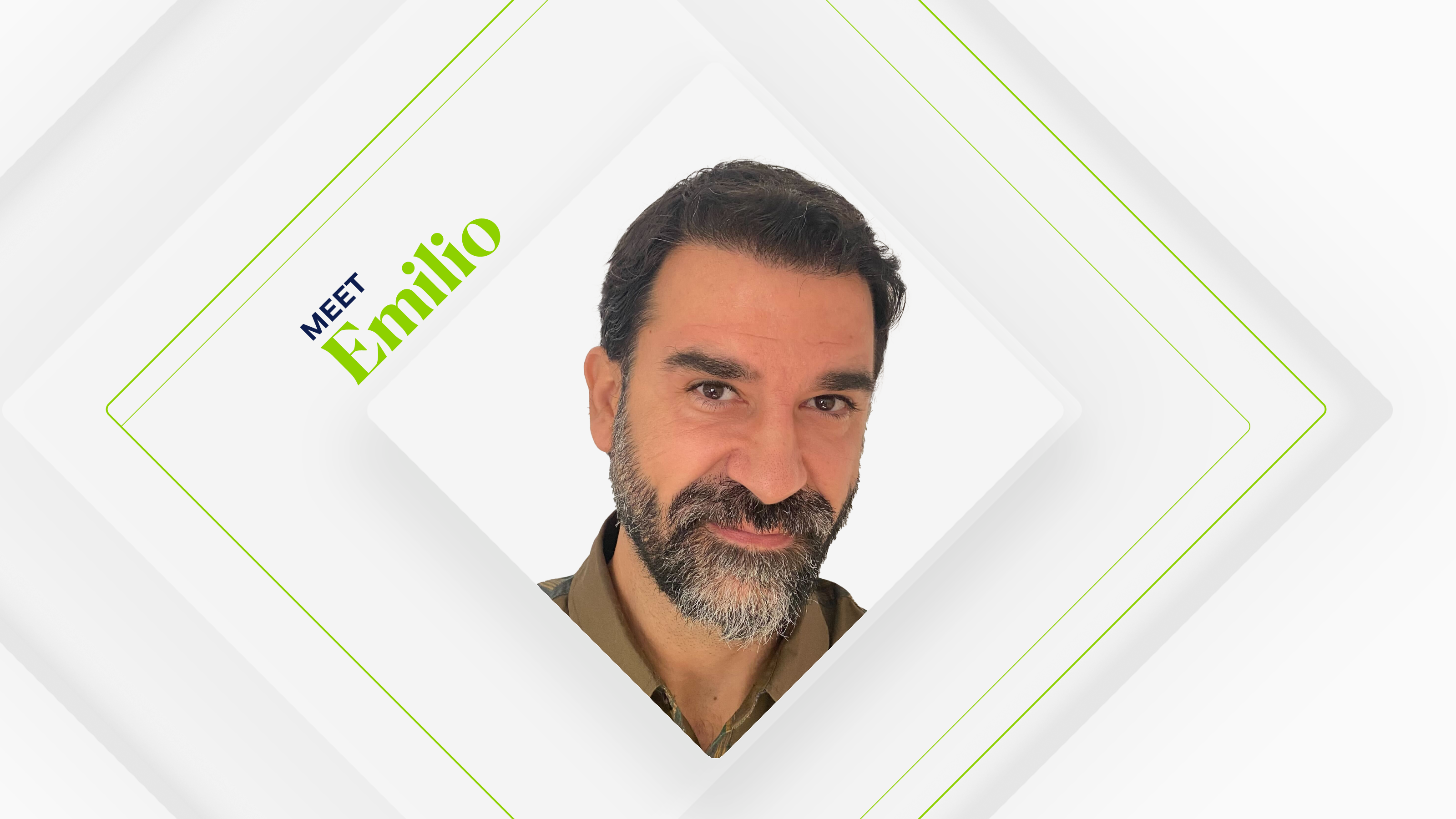 My role in the company
At Interactiv4, my position is a Service Manager. My responsibilities are to help coordinate projects, maintenance, and services, and to align timelines and deliverables with the expectations and needs of our customers. It's important that all of this is properly coordinated in all areas of the project, both internally and externally.
One of the specifics of this position is the necessity to best interpret and provide for what the client requires. Sometimes this means further elaboration of technical language in order to describe the overall process and development with high levels of efficiency or, on the contrary, make information available to the client in simpler terms which can be understood by anyone.
My previous work experiences over the last 20 years have really helped me a lot in this case as in my "previous" life, I was on the other side as a client. In this way, it's a lot easier for me to understand and relate to their needs for a given project, ask the right questions for clarification in all the right areas, and make the correct information available for the benefit of all levels of people.
My path
I began my career a little over 25 years ago at a multinational rental car company, Europcar. And from this first experience, I owe a lot of my growth, experience, and knowledge which brought me to where I am today. I first began in the call center where my career in sales and customer service began. We used to have competitions on who could sell the most of a given product, and were motivated and rewarded for doing so in the form of gifts for those who achieved or surpassed these goals, as well as who had the highest customer ratings. These were in the golden days of the 90s competitive selling culture. After a few years here, I was promoted to Supervisor and had the chance to manage and influence teams of my own.
A few years later, while I was studying and finishing my Master's degree, I saw an opportunity for my career to take a different path after an insightful and exciting course on electronic commerce, a new thing at the time. This gave me the chance to lead the B2B part of the ecommerce department, and I didn't even think twice about it. In 2007 I began my journey with ecommerce projects, and by 2009 I had expanded to have both B2B and B2C under my supervision.
After this experience, I then went on to share my experience in similar roles in lots of different companies of all sectors and sizes (Sprinter, Avon, Santamanía, Vinoseleccion, Saint Gobain) and some of these projects introduced me to Interactiv4 as a provider. This was really the first chance I had to see first hand the development capabilities, excellence, and determination Interactiv4 put into every project, and I was impressed!
As time went on, I began to consider an even deeper change in my overall career path, and last year I found myself in a prime position to do just that: switching from the client side to the provider side.
Interactiv4 gave me the opportunity to join their team and after all my previous experiences working with them, I'm more than happy to have accepted this role. It's allowed me to continue developing my professional career in an exciting way because today, I see so much more that I have to learn from a whole different perspective, yet I still have so much from my past experiences to contribute to the growth of this company at the same time.
The things that keep me going
My family, in the broadest sense of the word. On the one hand, this is the immediate family that I come home to every day. I've created a life with the most wonderful and surprising woman I have ever met, and our "dog and cat fur babies" form an unusually large and loving family.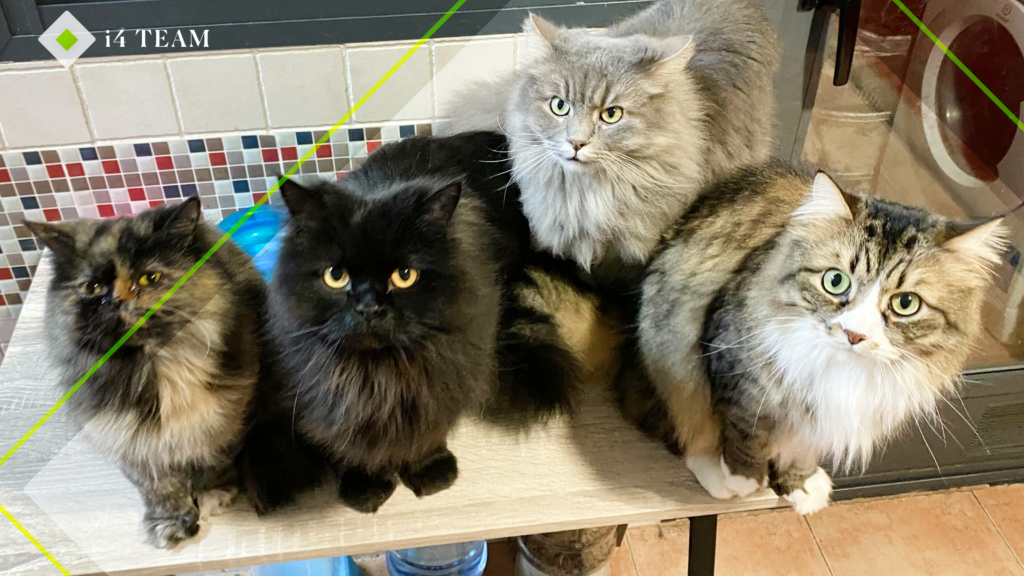 And second is my extended family. They're also quite large, and have always been loving and supportive of me to help instill the best work ethic and values possible. And for this I'm forever grateful and fortunate. They come from a humble background and have always taught me "success doesn't come to those who wait" and that you have to work hard and with passion to achieve your dreams.
I especially recognize those teachings from my mother and my grandmother (my other mother) and my grandfather. Wherever they are, they are always with me and their guidance and wisdom have brought me to this point in my life.
Integrity, honesty, humility, and perseverance are the core pieces of what I've learned to make me the person I am today. Along with my father and my 12 brothers(!), my nephews, and my great-nephews with whom I learned to work as a team to motivate and lift each other up, and to coordinate different kinds of media. Imagine all those people at home with only one bathroom…
The best part of my day VS the worst part of my day
The best part of my day is the moment when I can cross a task off my to-do list. It's a feeling of joy and accomplishment for the work you've put in, and for the team working with you. Being able to see and breathe and experience the magic performed by our technical teams whom I work with each day is a whole other great part of my day. And I'm very fortunate and happy to have them on my side.
I'm not usually one for ups and downs, but if I had to choose the worst moment of a day, it's receiving bad news from a loved one, seeing them in pain, and knowing that I can't take that pain away. Or when I watch the news, and see how we're changing the world in a way which is not so kind and helpful to those who come after us.
And if I had to speak only of work moments, I'd say it's the moment when your desire to work and finish a task is much greater than your available energy. Sometimes you know that you have to stop and take a break, or sleep on something and work again the next day. And while it's not always a good feeling, it's the best outcome so that you can approach every problem with a renewed sense of strength and focus to avoid mistakes and give your best.
An advice for my younger self
Work hard, study, read a lot, learn to rest, and use your time well. Don't be afraid to dedicate yourself to something both professionally and personally if it's truly important and passionate for you. And above all listen. Always listen with open ears and an open mind, and learn from everyone you come across because everything comes into and out of your life for a reason.
Live, feel, love, and work intensely. Find what is truly important to you and enjoy it.
Make mistakes, but learn from them and try your best not to repeat them.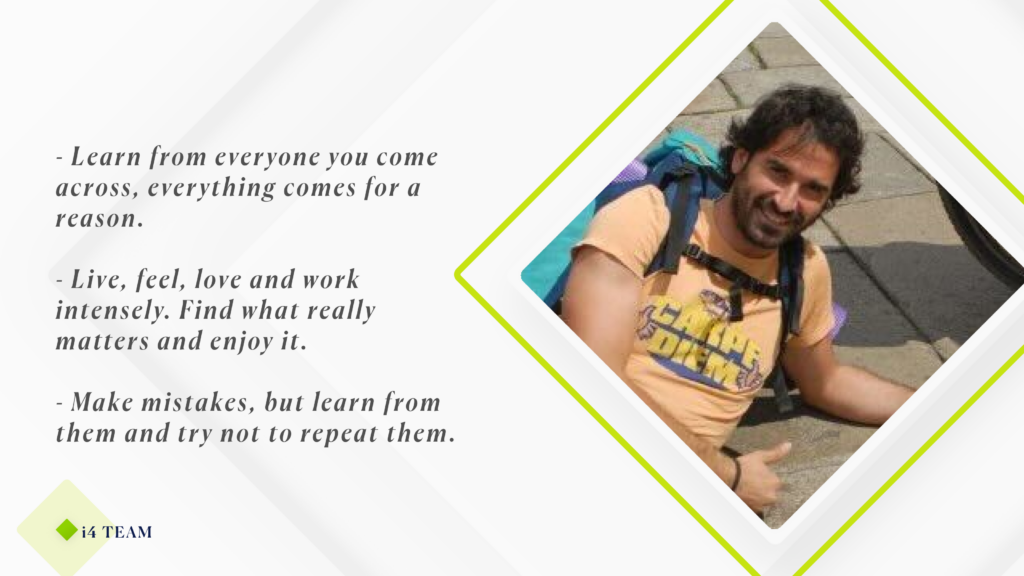 An advice for someone who wants to pursue a career path similar to mine
I think it would be similar to my younger self's advice: work, listen, surround yourself with intelligent and capable professionals, and overall better people from whom you can learn from and grow.
Do not bog yourself down with something that you do not like. Don't be afraid to leave your comfort zone, but prepare yourself before doing it. I have made two changes of direction in my professional career and the beginnings are always difficult, but that's to be expected. But if you prepare, you work hard, and you persevere, you'll feel the reward too as you continue to strive for the best and achieve your goals.
Things that surprised me from Interactiv4
The wonderful team that makes up Interactiv4. In addition to being extremely professional at even the highest level, they're one of the best teams with whom I've worked, and with a career as long as mine, that's saying something. They are truly great people who are empathetic, proactive, and always willing to lend a hand. It's truly special to see so many people come together at once and dedicate themselves to transform a problem into a priority, and develop a solution. All working together for the bigger goals of helping each other, and delivering a great product/service for our customer.
And secondly, but just as importantly, the work environment as a whole that has been created at Interactiv4. Vital importance is given to the well-being of each employee, allowing for a big focus to be put on family, giving everyone a voice, and actively listening to them. This helps in so many ways, large and small, to improve what we experience every day as employees, and in a place where we spend so many of our waking hours each week. Nacho makes sure that we're all united and rowing in the same direction with clear leadership, thoughts, ideas, and passion that helps motivate all of us too.