Meet Ángel
27 Jan, 2021 / 5 MIN read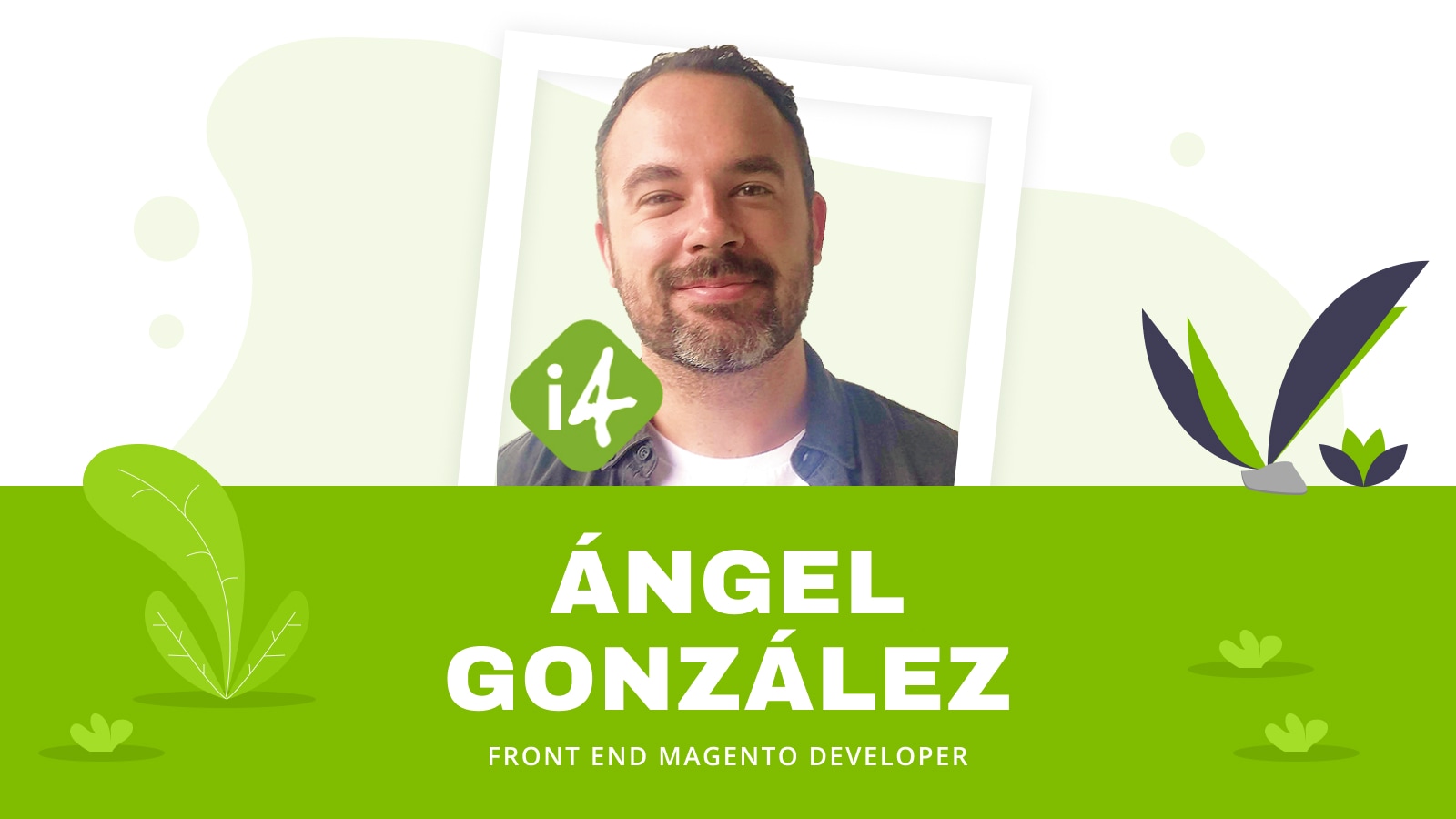 With this interview with Ángel we kick off a new series of posts introducing the best of Interactiv4, its driving force: our team.
Ángel is one of the newest additions to our Front-end team, and, like many others, we seduced him and made him come with us from Alicante.
We hope you like the interview!
Can you tell us a bit about yourself?
Where do I start? My name is Ángel González and I'm 28 years old. I'm from Alicante, but when I embarked on this adventure I decided to move to Madrid until, due to the pandemic, I temporarily moved back to my home city.
I studied at the University of Alicante, where I started a Degree in Computer Engineering, but a year later I switched to a Degree in Multimedia Engineering, after the implementation of the Bologna Process.
With respect to my hobbies, I have to admit that I'm addicted to movies and TV shows, although lately I've been trying to control myself and stop watching so many shows at the same time. I also like the motoring world and, whenever I can and if have the time, I like to go for a drive on Saturday or Sunday mornings. Mmm… I'm also a craft beer taster in my free time, I must admit. I love trying new things, and whenever I go to a new place I always try something different.
You have been with us since 2019. What do you remember about your first day?
I've been a member of the i4 team for a year, and I don't regret a thing. I can't exactly remember it, although I do remember the nerves on my first day, like everybody else, I guess.
In my case, almost everything was new to me: new city, new job, new colleagues, and also the experience of sharing an apartment. I have good memories of that day: right from the start I was warmly welcomed by everyone, and they kindly helped me when I needed something. I guess this is an experience we all have gone through, so everyone was really friendly to me. Luckily, this made things so much easier!
You work as a Front-end Developer. What is your education and training, where did you start, and why were you interested in eCommerce?
As I said before, I have a degree in Multimedia Engineering and I started off this path with an internship at a company that ended up being my first real job. Of all the different options offered by my university degree, I opted for the Web world, and I eventually chose my specialization. Even if you are determined to specialize in the Web, this is an extensive discipline, so you have to choose something a bit more specific.
Eventually, as time goes by and as you get more experience, you end up finding the field you are truly comfortable with and that motivates you the most.
What does your job entail? How did you become a Front-end Developer?
My job? I would technically describe my position as Magento 2 Front-end Developer, or, to say it plainly, if we divided an online store into different areas, mine would be the part connected to the visual area and to the logic related to a direct interaction by the user.
I currently specialize in Magento 2, since this is the technology I use daily. But along the path that took me here, I worked on many other projects and I used many other technologies. My first projects were on WordPress, Yi Framework, Prestashop, Shopify… and, finally, Magento. This path was not clear from the beginning, but little by little you find yourself facing different situations and challenges that motivate you and make you opt for one technology or another.
Can you describe your typical work day?
First of all, I always try to be on time and to plan a kind of strict schedule, since with all this COVID situation and working from home this is somewhat challenging. I say strict because I don't want to get out of the habit of having a controlled schedule and to lose track of the time and deadlines. I admit I'm a bit of a mess in that sense.
I start my work day checking my email and seeing if there are any new mentions on i4's communication channels. Shortly after, I continue with the task I started the day before or the task with the highest priority according to project planning. I usually have time to do some work before 09:00 AM, when a daily group meeting is held in order to have a briefing on the status of the projects. These meetings are also a good thing because, since many of us are working from home until this situation improves and we only write to each other, keeping in contact and simulating a real work day with your colleagues really helps.
After this meeting I start working in earnest, except for the occasional break (such as my mid-morning coffee), and then I keep on until the end of my work day.
Do you listen to music while you work? What kind of music?
It depends on the moment and on the task I'm working on, and on how focused I need to be. If I'm working on a light task, I usually listen to some music while doing it, and I listen to many different styles, from instrumental music to deep house.
Lately I also like to work while listening to podcasts or prerecorded radio or TV shows. I've got hooked on Nadie Sabe Nada, Andreu Buenafuente and Berto Romero's show!
What is your work space like? Can you describe your setup?
I work on my laptop, and it is connected to a second work monitor. Ever since I've been working from home I've realized that there's this thing I do: I like working from different parts of the house, depending on the moment. So, although initially I work better using two monitors, I can't keep still and I keep moving around the house with my laptop.
What project are you most proud of?
This is a tough question… If I really have to pick one, I would say this recent project: https://www.we-vibe.com/uk/. This is a project I took part in, and it was developed this year and launched a few months ago (at the end of the summer, if I remember correctly). I would say that the result was quite good and, as far as I know, the client was really satisfied with it, so all the better.
What kind of person are you: the one who asks questions, the one who is asked questions, or the one who researches?
I would say that I do the three things, depending on the moment. I have to say that when confronted with a problem, I'm always a bit stubborn and I try to solve it on my own, but if I don't have the time, or if I see that another person can easily help me with it and I know I won't disturb them too much, I end up asking someone.
Sometimes they also ask me questions, of course. If it's up to me and it it's in my power, I help with what I can. I don't know about everything, so when I don't know the answer to a question I often try to help by contributing a method to work out the cause of the problem.
In many occasions, when people (including myself) ask something, they don't directly seek a solution, but an idea to help them move on. When you spend a lot of time focused on a task that isn't working properly, you end up overlooking the easiest concepts in the midst of the battle between yourself and the keyboard. In these cases, an external opinion can be extremely helpful to shed some light on your problems.
And finally… Who do you nominate for the next interview?
Okay, I was wrong. This is clearly the toughest question… hahahaha. I nominate @CarlaChueca, one of the members of the wonderful design team at i4. I am sure her interview will be much better than mine.