interactiv4 attends Magento Live UK 2013.
24 Oct, 2013 / 3 MIN read
Last october 22 took place one of the most important and expected events in the Magento universe in Europe, Magento Live UK, held by etc. venues St. Paul in London.
Etc. venues is a state of the art conference center with contemporary design located near to St. Paul's Cathedral and London Museum, one of the emblematic places in the city and the perfect location for a conference which gathered some of the Magento gurus.
As advance, on october 21 there was a pre-event with conferences focused on Industry Partners and Solution Partners – we were invited to this one as interactiv4 is Silver Solution Partner – and a welcome dinner sponsored by Rackspace Hosting, where the attendants had the opportunity to do some networking, something essential in Magento universe, as the community is one of its strongest pillars of the Open SOurce platform.
On wednesday 22 a lot of conferences were going on from 9:00 am to 19:00 pm, about different eCommerce and Magento issues. The most relevant were:
Developers sessions focused on Solr, HHVM, testing and how to sell on eBay from Magento.
Special Magento U seminars  and SEO implementations.
General Sessions with remarkable speakers among Magento community, like its CEO and Co-Founder Roy Rubin and its Head of Product, Jimmy Duvall, and eCommerce personalities, like John Luhn, PayPal Global Director of Developer Relations or Thomas Husson, Forrester Vice President and Principle Analyst.
Breakout Sessions, focused on mobile and website conversion optimization strategies, engaging the audience through the brand, metrics to increase conversions and sales, and how to make the most of the digital & mobile disruptions.
The event was sponsored by remarkable companies as PayPal, eBay, Nexcess, Rackspace and Sage Pay among others.
Ignacio Riesco, our CEO and Founder was both days in London attending the event: Here you have his view about this year's edition:
"It's always a pleasure to see all the guys again; friends, partners and collegues. This year in particular we didn't discover anything new or remarkable. But we were really surprised by the number of new faces that Magento has brought in the company through the last months. We had the chance to talk with them about the future  of the platform and next steps.


About Magento2, we have good and bad news. Starting with the bad one: there is no official release date. But the good one is that we appreciate the honesty on saying it, as it would be exasperating to hear the same speech again after 3 years.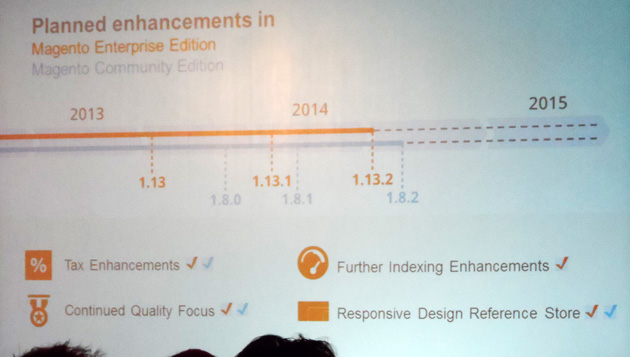 (We could also learn about the progresses in GitHub and Twitter).
They gave us a release roadmap  and the confirmation of the support and continuity of CE version; it has been the first time that we have seen these kind of charts and we have taken part of them.
The best of the event, having traveled with my friend Frankie Carrero from BrainSins. Loads of laughs, conversations and the pleasure to share our point of view during the trip. With Frankie you learn something new every minute.
I forgot to mention Mr. John Luhn; we have been following John since we met him on Magento Dav Paradise in 2011, he's the boss. He present the last news about PayPal and we were glad to hear about the new PayPal API. One unique API Rest for all services (at last!). Besides, we could see him using the last "gadget" they have released to be able to make payments in Retail (eveything connected), using the solution of our friends of SmartOSC. A POS done in HTML5, completely based on Magento. Your retail & Online store under the same platform. (Great!).
In the event were also our friends of Ebizmarts, the main attraction of the event in the SagePay stand, with a POS solution based on Magento. As we could see last month when Pablo visited our offices, an incredible app for tablets that can be connected with Magento to develop all your business in Retail.
It seems that this kind of solutions are leading the market. We will see how it evolves.
We will be traveling again in a cuple of weeks to another Magento event, this time more oriented to development and community: Meet Magento Poland, wich will be held by our friends of Snowdog and will take place in Varsaw next November".