Intro
Google Analytics 4 and why you need to switch now
You must have already heard that Google is sunsetting Universal Google Analytics on July 1st, 2023. While many of you may find some relief in the fact that these changes will not happen until next year, it doesn't mean setting up GA4 is something that should be put off. The sooner you can begin the implementation of GA4, the better. Why? All the answers are in our latest article.

Contents
18 Aug, 2022 / 11 MIN read
After nearly 2 decades of relying on Google Universal Analytics for key digital decisions around how to run our business, it's time to make a change. Google Analytics 4 brings a new standard to the processing and understanding of analytics that we're used to.
And as of July 1st, 2023, we'll all be making the switch to Google Analytics 4 whether we like it or not, as the current Google Universal Analytics we know today will officially be retired.
This means that for any business or enterprise using Google Universal Analytics, starting on the 1st of July 2023, no new data will be collected for your data forms or reports, only your pre-existing data will be available.
These pre-existing data reports and forms will be available for 6 months before they too are permanently retired on the 1st of January, 2024. So that means the clock is already ticking for switching to Google Analytics 4 if you plan to continue using Google Analytics in the future.  
Google's decision to make the switch mandatory for all users is two fold. On the one hand, providing more advanced functionality for businesses and marketers to analyze and plan. It's also a key component for the ever changing landscape of data privacy laws.
Without making this change, Google would not be in compliance of the most current data privacy laws which would mean a whole slew of problems for us and them if changes aren't made.
The upside to all of this, is that with this newer offering comes the promise to add additional capabilities which are not available in the soon-to-be retired Google Analytics version.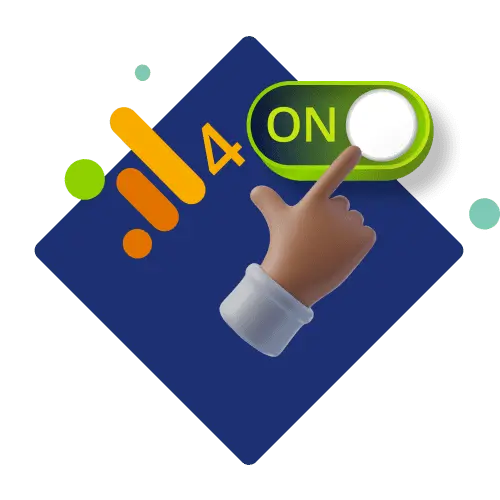 CHAPTER 1
Why make the switch now?
Because change is already on its way.
The sooner you can begin implementation of GA4, the sooner your current historical data will also be more closely safeguarded for reference later.
Google hasn't yet confirmed its plans for aiding in the transference of historical data from the current Universal Analytics option to GA4. And even if a plan is released in the coming months, you have to consider a crucial element: the new event-based data modeling.
The biggest change between Universal Analytics and GA4 relates to the data model. Universal analytics uses the display of pages and sessions at its foundation, whereas GA4 is based on events.
That being said, switching from Universal Analytics to GA4 isn't technically considered a migration as the way data is measured has changed entirely. And, the data in reports will differ too.
Instead, it's a better idea to create a new GA4 property which can work together with Universal Analytics during the adaptation time to the new tool. This new property is ideal because it allows for more flexibility when rethinking the way metrics are measured, and will provide for a smoother transition overall, compared with using the "Update to GA4" button currently in Universal Analytics.
And speaking from previous experience, it's worth planning for the upgrade as soon as possible to keep headaches to a minimum, and provide the best for your customers.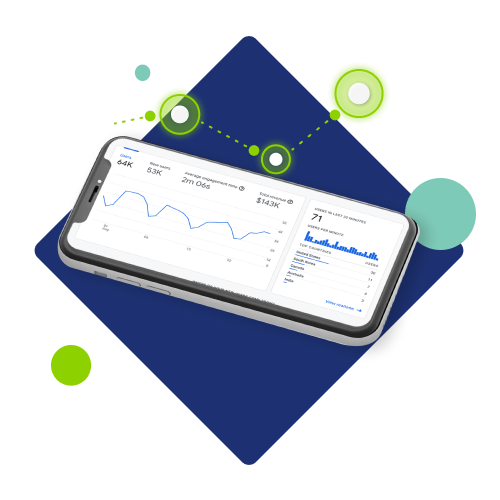 CHAPTER 2
What are the benefits of Google Analytics 4
In addition to meeting current industry standards for data security and privacy, there are quite a few benefits to the new Google Analytics 4 offering that can help your business and marketing teams.
Tracking the customer journey
Tracking your customer journey will be easier because of the event-based tracking focus. As it currently works with Universal Analytics, a big focus is put on individual user sessions which originate from desktop browsers. As a result, it takes a bit more time and effort to put together the full picture of the possible customer journey.
With GA4, users and their interactions are tracked simply as events. This leads to a shifted data driven model which can be used as a primary set of metrics and dimensions to consider web, mobile, and app data for enhanced aggregation and analysis.
With GA4, if a user visits your website on their mobile, revisits on their desktop, and makes a purchase on your app, GA4 will help piece together each of these journeys and give you a much more comprehensive picture of the customer journey.
Improved predictive data & metrics for analysis and planning
Fully backed by Google's AI machine learning, GA4 has a better ability to process and predict user behavior based on data. It can now fill in the gaps more accurately and help understand user behavior, combined with website data without the need to rely on individual webpage traffic hits.
This means GA4 can help provide more insightful metrics to your marketers to help boost conversions. It will also boost growth for your business by better targeting your potential new market prospects, and driving retention for existing users who might not return via Google Ads. These metric categories include purchase probability, revenue prediction, and churn probability.
Enhanced market segmentations for better targeting
Segmentation based on events is not something that can be utilized with the current UA offering. But with GA4, you'll be able to further define your audience segments for marketing campaigns. This means you'll be able to put an even sharper focus on users and their interactions out of the box. And since it's tied to the event based tracking, you won't have to sort through data according to platform type or device.
Taking it a step further by adding the "time" component means you can better understand, in detail, the time users spent in between the different stages of each customer journey.
And whatever you publish can be shared to your Google Ads account in a super simple way. Each new audience segment can be used to run campaigns with precision for each new audience you'd like to explore.
Easy integration with Google Ads
As we mentioned with enhanced segmentation being added to your Google Ads account, Google Ads can be setup from the configuration page in a few simple steps. Simply add a property that sends the purchase and/or in_app_purchase event.
From there, both accounts can be easily linked. The only things to note are that the user must have an editor role in the analytics property to be properly linked, and the account must also have an administrator who can access Google Ads.
Multi-domain tracking
Cross-domain tracking wasn't easily possible with the current UA option. This was mostly due to the fact that changes were required at both the tracking and admin levels.
However, with GA4, multi-domain tracking is an option which can be setup directly in the admin settings and without any changes to the page tracking.
Not only does this provide an enhanced benefit for your business but with an easy setup process it promises you less headache with development.
Direct integration to BigQuery
For those of you not using it, BigQuery is a fully-managed, serverless data warehouse which functions as a Platform as a Service that supports querying using ANSI SQL, and has built-in machine learning capabilities.
Connecting GA4 with BigQuery can be done in a few clicks. At this point, BigQuery will start storing the GA4 data on a daily basis according to your needs.
BigQuery can also handle larger volumes of data, accepting up to 10 GB of data storage and 1TB/month of queries which roll over for free into the following month.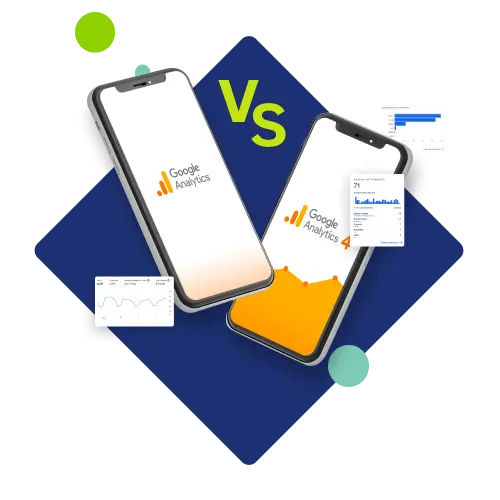 CHAPTER 3
What are the main differences between GA4 and Universal Analytics?
While UA and GA4 have set out to accomplish the same goal, it's no secret that times have changed since UA was made available to the mass market.
And not only has the industry changed, but the way we use analytics and track customer journeys as a whole has experienced complete paradigm shifts with the prevalence of mobile purchases and the impact of Covid 19.
Each tool provides enhanced insight for the user but GA4 does so with a much more advanced and modern approach to algorithms and event-based data modeling. That said, let's take a quick look at how some of the features and options have changed from UA to GA4.
Types of hits
If we compare the current UA approach to hit management with the improved event based data collection in GA4, we'll see some clear benefits.
UA started with a set criteria combining metrics (Page View, Event, Social, Transaction/Ecommerce, User Timing, Exception, App View/Screen) to generate hits.
But with GA4, the process has been modernized to connect the combination of overall events with the parameters defined in each hit type.
As we already mentioned earlier, GA4 was created to give a unified view of the customer journey across web and app.
To do this, the UA approach of several different kinds of hits + custom dimensions and metrics (Page View, Event, Social, Transaction/Ecommerce, User Timing, Exception, App View/Screen was changed to reflect the app approach of events + parameters.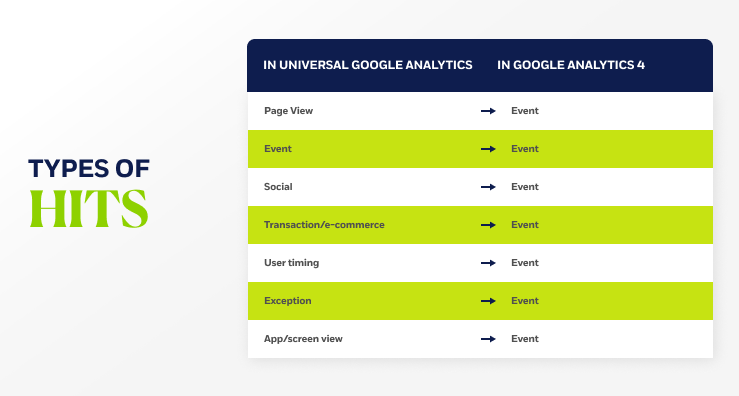 This also requires a moment of distinction as events correspond to different things and contain different criterias in Universal Analytics and GA4, respectively.
With UA, an event has a category, an action, and a tag, as well as being its own type of visit. With GA4, the database entries are not created with the same information, therefore we have to work differently with our data.
It's best to combine working with both of these tools in the beginning. This way, it will work better than attempting to port existing event structures from UA to GA4 where there isn't the same corresponding database tables.
Session count
Once both tools have been put into place, you'll notice a distinction in the way data results are populated. We'll take a closer look at session count and explain how and why these results differ.
UA currently defines a new session at the start of a new campaign, regardless of activity, which may skew the results. Hits are also processed in UA according to a specific timeline, where they must arrive 4 hours before the close of the day.
Comparing this to GA4, users are considered active simply by starting the application, this may lead to higher numbers than in UA as the criteria is different.
It's also the case that starting a new campaign does not start a new session, like it does in UA, so results of sessions may appear lower in GA 4 than currently in UA.
Events are also processed up to 72 hours after occurrence which means you may see higher session counts in GA4, and the numbers reported in these 72 hours may vary.
Custom dimensions and metrics
While GA4 provides more flexibility in terms of dimensions and metrics, results will depend on the current setup in Universal. Each dimension and metric will have a corresponding property which will require assignment in GA4, except for the session scope, where there is no equivalent.
For hits, there is the event scope custom dimension.
For user scope, there is user scope custom dimension.
For product scope, there are e-commerce parameters.
Content grouping
GA4 introduces the option of content grouping. It provides an opportunity to better understand the site content, and how this affects engagement, navigation, and of course, conversions.
With the GA4 properties, you'll benefit from the default parameter for grouped content – content_group in gtag or ContentGroup in GTM. But GA4 has the flexibility to allow for additional content group dimensions which can be added to tailor-fit the data of the event scope.
User ID
As we'd mentioned before, GA4 provides an enhanced tracking of user interactions between different devices.
The main difference is that GA4 embeds the user ID natively, whereas in Universal Analytics a specific reporting view for the user ID must be created.
For the alignment of user IDs between web and app, it is essential that the identifier be identical, that is, the same data must be sent on both platforms, with the same format.
If on one platform it is sent as numeric and on another as a string, this will result in the IDs being interpreted as different rather than identical.
Because of the enhanced approach with GA4, user behavior can be reported in a much more precise and accurate way. Not only does this help analyze user value, but it provides a clear path for user conversion, and can be used to evaluate the effectiveness of marketing activities by attribution modeling.
Parameters
Universal Analytics only allowed the transmission of three parameters per event – Category, Label, Action.
Now, GA4 events can have up to 25 parameters, which was previously impossible.
That enables you to investigate a wide range of events in the context of funnel or path investigation and make changes to improve conversions.
Default reports
Reporting has also been given an upgrade in GA4.
Gone are the days where you'd have to navigate to a separate part of the platform to access your built-in reports. The new approach focuses on a more Google Data Studio dashboard type format which can be accessed anywhere in the Reports navigation space.
While it may contain less of the built-in reports by default, it succeeds in providing a more customizable report generation and creation experiences than were ever possible with UA.
And with the addition of the Exploration module, an exciting number of built-in visualizations can be easily configured and populated with your dimensions and metrics in a simple drag-and-drop fashion. It takes your reporting metrics to a whole new level.
Can Universal Analytics Ecommerce Tagging be used for GA4?
No, it is not recommended. While it's possible to modify the name of the variables to translate them to GA4 from GTM, there are some complications. And in this way, some details would not be measured correctly in GA4 such as the lists.
In Universal Analytics, lists were not necessary in all ecommerce events while GA4 does require them. If, for example, in the purchase event we did not have that variable, the purchases would not appear in the E-commerce purchases report, and only views and times added to cart. To avoid this type of error, a new specific labeling for GA4 is recommended.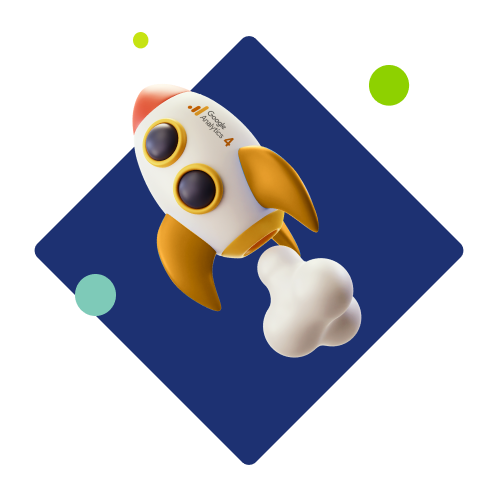 CHAPTER 4
How do I get started with GA4?
The first steps are quite clear: Install the GA4 property on your current system, and on your website.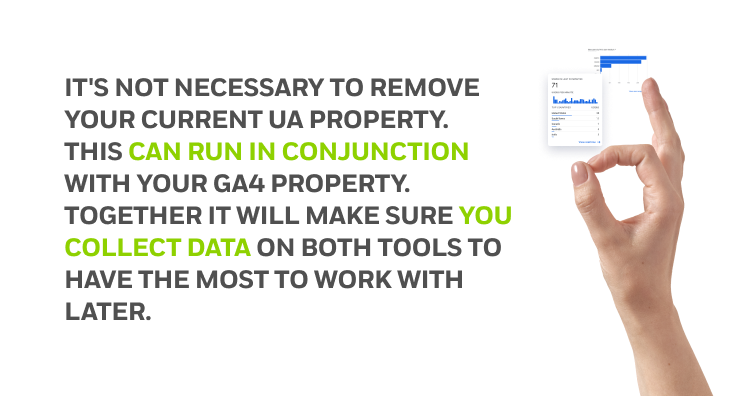 From here, take some time to familiarize yourself with the new look and feel of your analytics, and see if there are any new features which automatically stand out to you.
And definitely check out the reporting area in the dashboard. Once you've gotten a glimpse into your new setup, consider some possible new events.
These will be the new sections and segments you'd like to track on your site, and use to grow your business in the next steps. For example, consider tracking downloads, purchases, sign ups, and anything else that might provide some valuable insight for your business and come standard in GA4.
Google provides a test account in which the analytics functionalities can be tested, it consists of a Universal Analytics property and two GA4 properties.
How We Can Help You
Depending on the complexity of your ecommerce store, either a little bit, or a lot. One thing is for sure, setting up GA4 is not always straightforward as there is a lot of work to be done from the ground up in the world of reporting.
GA4 also requires Google Tag Manager (GTA) which will definitely lead you to some specialized analytics and development help. Our module is prepared to work with GTM, so one thing less for you to worry about.
When you're ready to take your GA4 conversion to the next level, reach out to us. Just leave your contact details below and we'll get in touch!
Author: Cristina Díaz, Analytics Specialist at Interactiv4
Looking to set up Google Analytics 4 for your ecommerce?
Let's get started!