Dive deep into Akeneo version 6
02 Jun, 2022 / 5 MIN read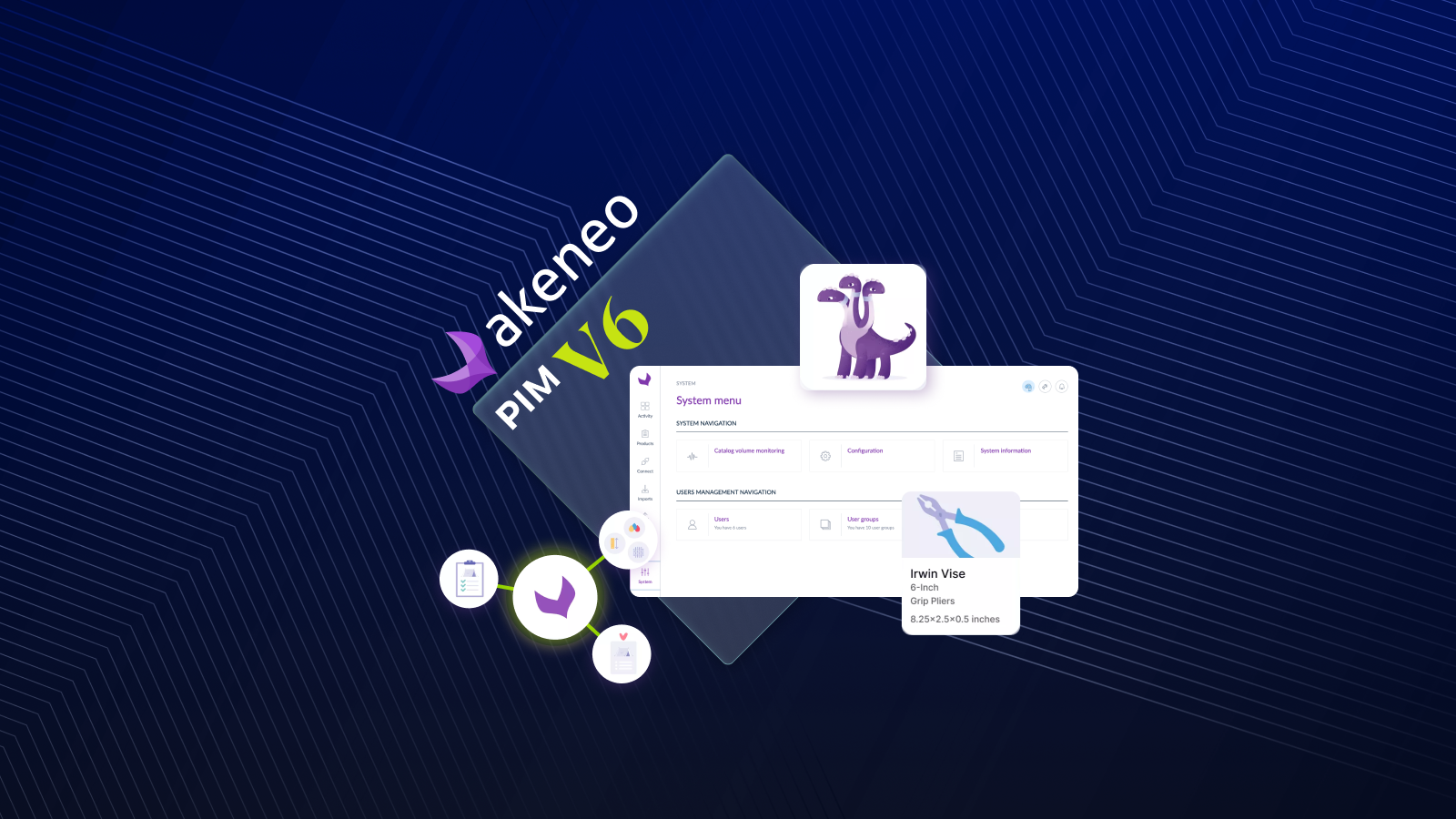 In the truest fashion of continuing to improve and grow their product, Akeneo officially issued the release of version 6 of the platform on Wednesday, March 23rd, 2022. In this article, we'll take a closer look at new PIM features and improvements.
If you're new to Akeneo, first things first, let's take a quick look at who they are and what they do. If you are proficient with Akeneo, simply skip and jump to the part with the new features overview.
Akeneo PIM is a cloud-based solution that helps manage product information across all kinds of sales and eCommerce channels. As we've all seen since 2020, PIM has become more valuable than ever with providers and teams sitting at their home and less opportunities to exchange information on merchandise. We can all agree, it's a modern day must-have to get up-to-date ready to work data from one source of truth.
This allows businesses to not only provide the needed information to their customers in a real-time and reliable way, but it helps to further enhance the customer experience. And in the case of Akeneo, it's a robust option for both B2B and B2C retailers and brands.
More than just B2B and B2C though, it offers well-positioned community versions for free to get started, with more enhanced features coming along in the paid versions.
Over the last 9 years, Akeneo has been evolving to allow for more features, more power, and more growth opportunities. This latest version boasts even more connections with third-party systems like Salesforce, Magento, BigCommerce, Shopify, and others.
It starts off strong with an expansive set of features and capabilities to help enhance and manage productivity, collaboration, connectivity, data quality, automation, and reporting & scalability.
Let's take a look at what users have already come to expect from a quality Akeneo PIM product, Community version.
☑️ Management of one unique and consolidated catalog.
☑️ Management of simple products, product models, and its variants.
☑️ Multiple channels.
☑️ Multiple region values.
☑️ Multiple currencies managing.
☑️ Relate images & files to the product.
☑️ Simple rights management.
☑️ Many kinds of attribute types.
☑️ Management of attribute options.
☑️ Import and export profiles.
☑️ Labels displayed in Excel and CSV product exports.
☑️ Creation of measurement families and units.
☑️ Product associations with quantities.
☑️ Two-way product association.
☑️ Private views.
☑️ Full visibility on jobs.
☑️ Unified product quality score.
☑️ "Missing image" quality criteria.
☑️ Product quality score on product and variant models.
☑️ Improved attribute option management.
☑️ Separate Web and Events APIs.
The list of opportunities goes on if you spring for the enterprise edition:
☑️ PAM Product Asset Manager.
☑️ Advanced rights management.
☑️ Validation workflows.
☑️ Restore products to previous versions.
☑️ Rules creation and update interface.
☑️ Rule and product duplication.
☑️ Attribute values automatically computed with rules.
☑️ Attributes concatenation automatized with rules.
☑️ Reference entity record import and export.
☑️ Automated description creation.
☑️ Spell-check in 6 languages.
☑️ Spell-check on attribute options and labels.
What's new for Community Edition v6?
Up to this point, we've covered a lot of ground on what the solution included in the previous version. So without further ado, let's take a look at what other opportunities for growth lie ahead.
Improved menus and experiences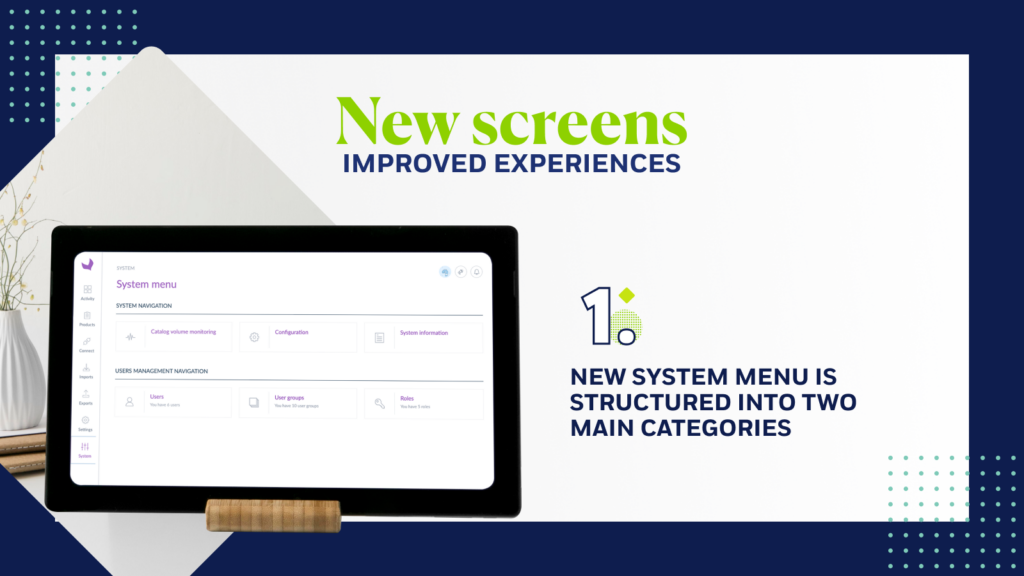 The new System Menu is split between 2 main areas: System Navigation and User Management Navigation. Each area allows for a user to see and interact with all the necessary sub-navigation items that house your day to day and important information about your Akeneo PIM system. From the number of products in your PIM to the total number of users, these enhanced and intuitive menu options make system and user management navigation even easier.
Akeneo PIM V6 also takes category creation and navigation a step further by improving the creation process. New category labels can now be created together with the code to simplify definitions and locale. Not only does this save time and clicks, but it provides a collapsed view when revising existing category trees. This collapsed view helps you see exactly which category you're working in, and where you can easily go next.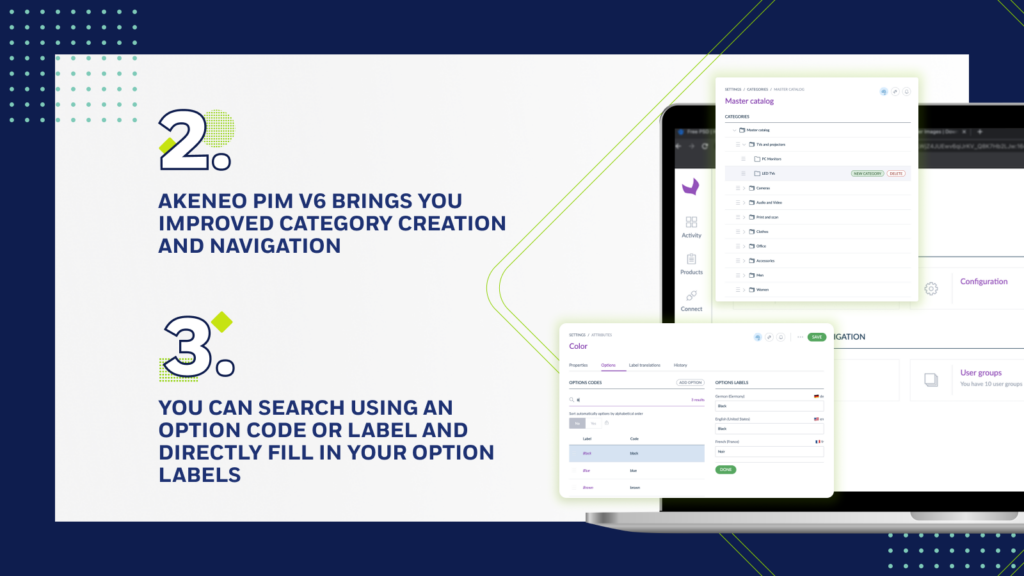 Attribute navigation options have been optimized for efficiency too. When working on long lists of options, option codes or labels can be used to directly fill in your option labels to help save time and keep you organized.
Top New Features of Enterprise Edition Paas Version 6
Table Creation Attributes
The ability to create tables means enhanced information for your customer. Everything from shipping dimensions to nutrition labels, size comparison charts, and more. The days of clicking and scrolling and zooming are over. Incorporating table attributes means efficiency, and faster decision making for purchases.
Not only can you quickly create tables thanks to table attributes that allow you to choose from an existing template set, but you can also build your own from scratch, based on the criteria you need most. Once it's ready to go and full of valuable information, assign it to a product and let it do the heavy lifting.
Export the data you need, with the structure you need
Tailored Exports is a freshly developed enhanced export profile that enables Akeneo PIM users to create and define their export templates. This means templates you create, save for future use, and rely on to download customized spreadsheets are easily accessible and perfectly customized for your every need.
With powerful functions like concatenation, conversions, and default values Tailored Exports saves time and provides the right data, every time. Not only does this reduce the time spent sifting through and creating spreadsheets, but it means easily repeatable functionality within the PIM.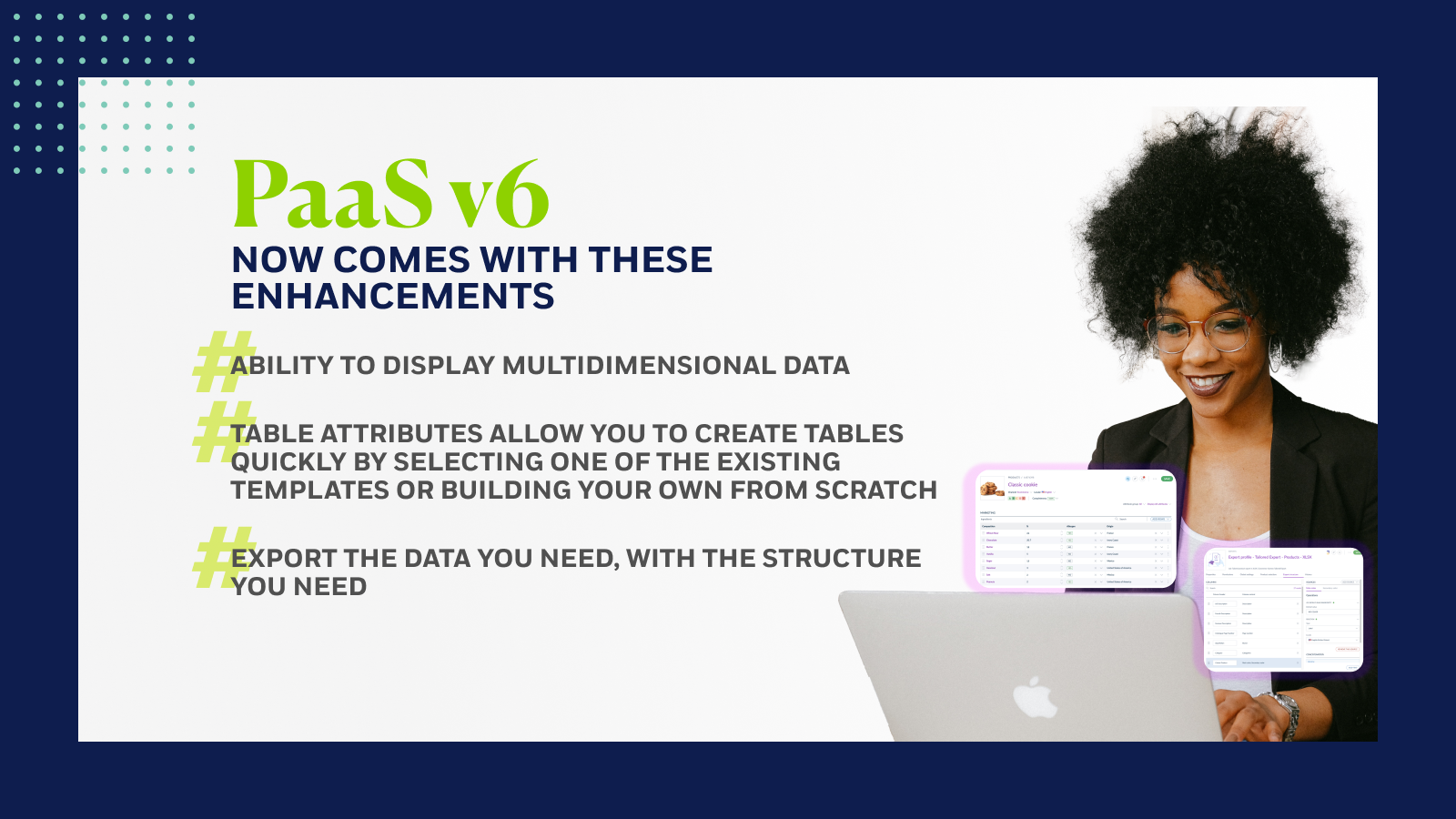 Tailored Exports builds upon the standard export functionality with more robust functionality like:
Measurement unit conversions.
Populating default values to empty cells.
Auto-formatting to optimize HTML tags.
Value replacement
Concatenating attributes into a single usable column.
Simplify your business life by incorporating Tailored Exports and its intelligent functionality in Akeneo PIM V6 to take your business to new heights.
Ready to make the change?
Like most big releases, V6 presents many promising features. It's important to keep in mind that V6 is still quite young in the world of plugins and compatibility. Our recommendation is simple: be open-minded and make a thorough evaluation.
Every business has different wants and needs, so before upgrading you need to know the benefits for your business. If you're not sure, you can get in touch with us for a consultation. For new clients and those just starting out, the community edition offers solid feature options, a stable platform, and it's free to get started. A good option for anyone looking for growth opportunities in their business.
More info: