What is BOPIS and why do you need it as retailer?
11 Oct, 2022 / 5 MIN read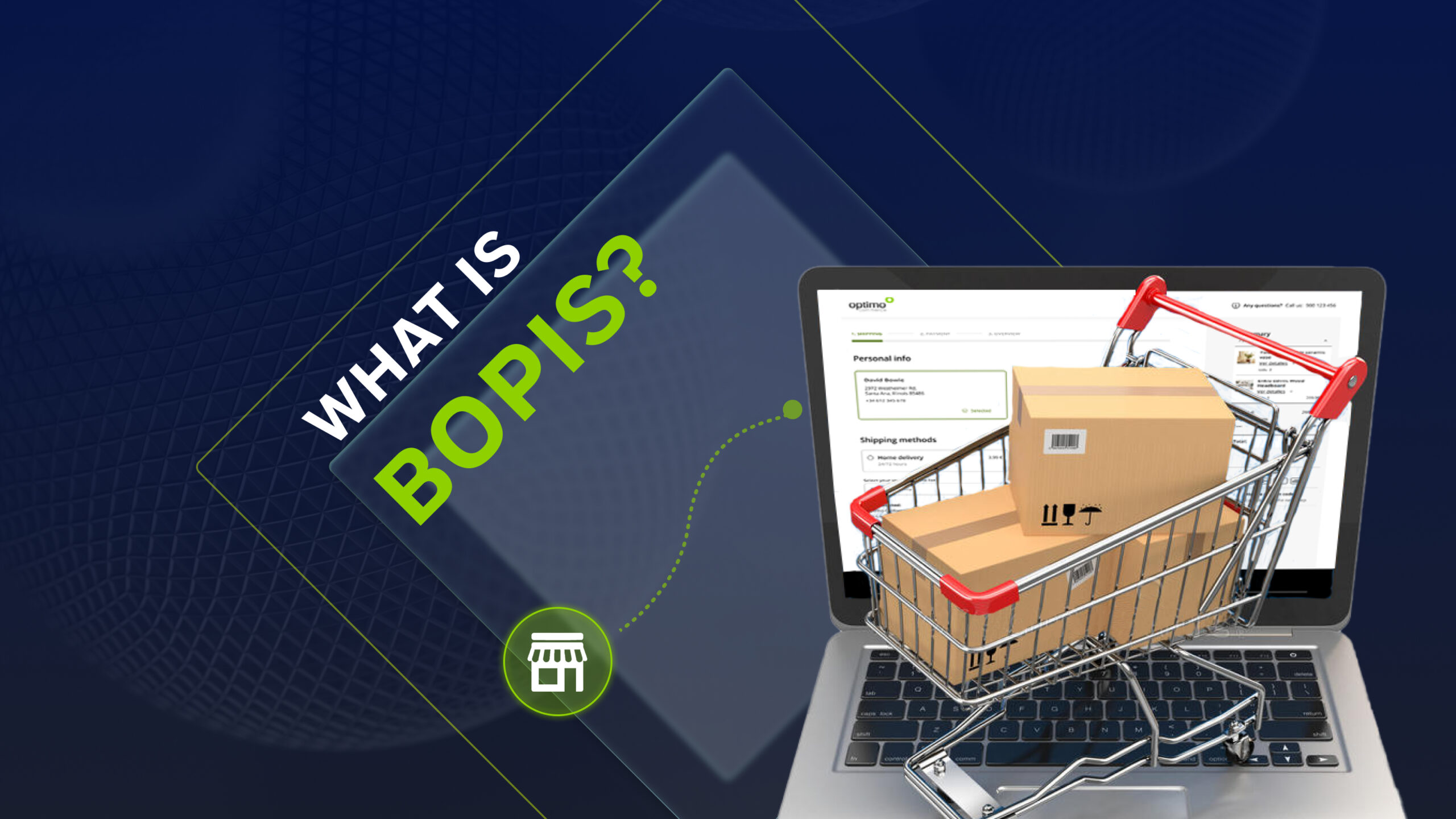 In the saturated world of retail and ecommerce, those who fail to stand out from the crowd risk oblivion. Right now, the name of the game is convenience, and a major player is BOPIS. You may have already heard of this click-and-collect strategy that merges online shopping and physical store experiences. This strategy is nothing new but yet is very effective if you are selling online and offline.
In the UK alone, 64% of retailers are already offering click-and-collect options. This means your competitors are outplaying you, if you do not offer this option to your customers yet. But before starting, you must first gain a better understanding of BOPIS and how it can help you and your customers.
What is BOPIS?
Short for 'buy online, pickup in-store', BOPIS is an omnichannel tactic that enables customers to order online and later pick up the items at a physical storefront. It's ideal for retailers that have both an e-commerce store and a brick-and-mortar shop.
Here's how it works:
The customer orders online. The customer processes the order online via a website or e-commerce app. The ordering procedure is the same as usual, except during checkout, the customer will have to select pickup for their fulfillment option and indicate their preferred time and location. 
You as the merchant fulfill the order and notify the customer when it's ready. When you receive the order, you pick and pack the items from the warehouse and deliver the order to the selected store. Once the order is ready, you inform the customer that the order is now available for pickup.
The customer picks up the item at the designated location. Handover of the order may occur in-store or at the customer service window. You can also arrange curbside pickup.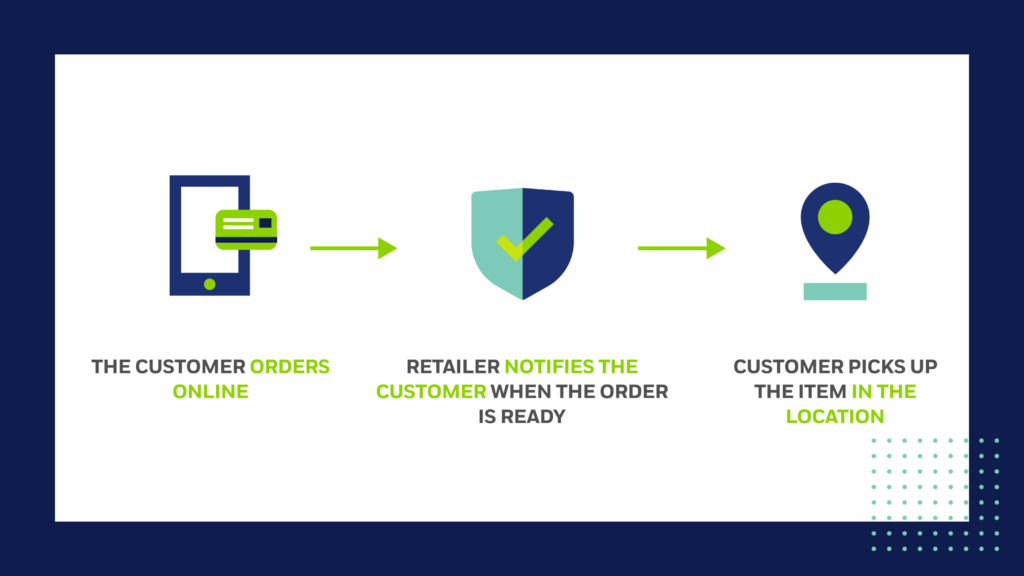 Your strategies may differ, but they all have one main goal — to make the process as convenient as possible for customers.
Benefits of BOPIS for e-commerce
BOPIS offers a win-win situation for both the businesses and their customers. Let's explore the benefits it brings to both parties.
Customer benefits
So, what's making BOPIS attractive to customers?
The convenience of online shopping
Nothing beats the convenience of being able to find items and pay for them with only a few taps on your cellphone. Your customers no longer have to race against store hours, wade through a crowd, or stand in long queues at the cashier counter. They can do your shopping while commuting, during a break at work, or as they're lounging at home, then just quickly drop by the physical store to pick up the items.
They receive the items sooner
Although customers will have to travel to the pickup locations, the speed by which they receive the order makes up for the inconvenience. They no longer have to put up with the wait time that usually goes with traditional shipping arrangements. BOPIS is particularly helpful for customers who need the items urgently.
They avoid shipping expenses
There's also the advantage of not having to pay shipping fees. And, with the rising cost of shipping nowadays, this option turns out to be more and more attractive to your customers.
An assurance that the item is in stock
Customers no longer have to travel to a store for a specific item only to come out empty-handed. With BOPIS, they get the guarantee that their shopping trip won't be a waste of time. After all, they'll only go to the location after they've received a notification that their order is ready.
Easily return or replace items
Although mostly convenient, online shopping has its drawbacks. For one, they don't get to try the products firsthand. So, there's always a chance they're not going to like the items they've ordered once they finally see them in real life.
The advantage of going the BOPIS route is that returning or replacing the products will be much easier and faster. You no longer have to ship them out. You can just process the return or replacement right then and there at the pickup location.
Retailer benefits
Let's look at the reasons why a BOPIS solution is a worthy investment for you.
Bring in more store traffic and sales
BOPIS allows you to capture both online and foot traffic. You get the best of both worlds. Plus, those who go to the shop to retrieve their orders may purchase even more items. It's a great opportunity to upsell or cross-sell. You can encourage additional purchases by providing online shoppers with coupons for on-site purchases.
Reduce your shipping costs
It's not only the customers that are able to cut down on their shipping costs, but you also get opportunities to make some savings. BOPIS lets you send all the orders to the pick-up location in one bulk shipment. It also allows you to cut down on the costs you normally incur from offering free shipping.
Improve your inventory system
For BOPIS to work, you need an accurate inventory system that updates in real time. Otherwise, you'll be advertising items for pick-up that may not be readily available. That would defeat the purpose of offering order fulfillment that allows customers to quickly receive the items. Adopting BOPIS forces you to step up their game in the inventory department.
Minimize package loss or damage
It's inevitable for some packages to get lost or damaged during regular shipping. With BOPIS, however, you get to minimize the possibility of any loss or damage.
Gain a competitive advantage
There's a great chance your competitors are already offering BOPIS. If they're not, then take the opportunity to get ahead of the race by offering the service. In retail, you need to stay relevant and trendy to keep your customers hooked.
Ready to get your own BOPIS solution rolling? We'll show you where to turn to for a quick set-up.
BOPIS strategies we apply at Interactiv4
At Interactiv4, we're prepared to help you get the ball rolling with your own BOPIS strategy.
For businesses who want to launch a new ecommerce store, we're offering our acceleration program Optimo Retail enabling us to build a feature-rich solution that integrates offline services into your e-commerce system in a record time. It comes complete with the following tools:
Store pickup tool for managing in-store order pickups. Users can instantly search for a specific point of sale by address, zip code, and proximity and see details about selected pickup locations. This tool integrates with payment methods.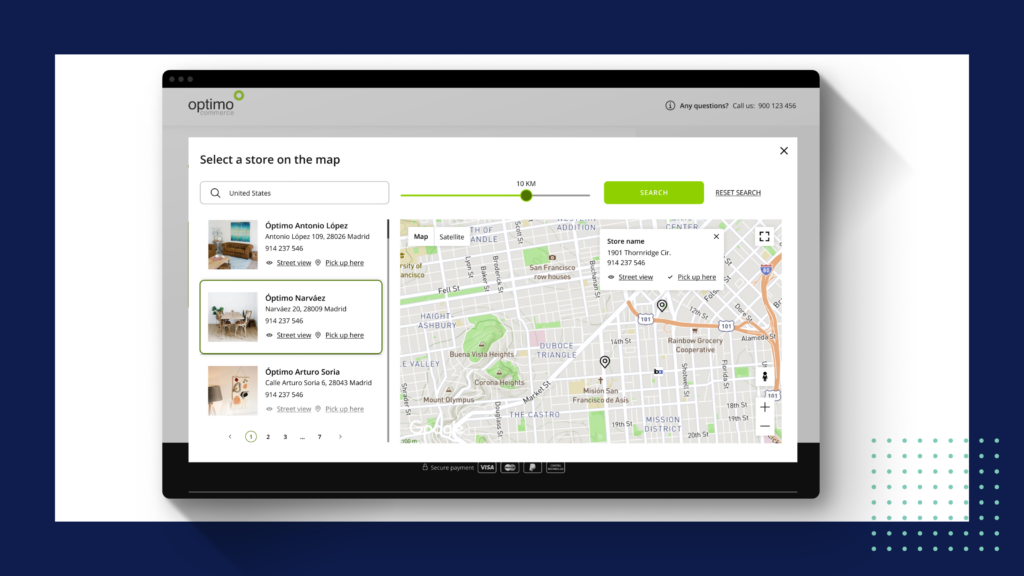 Store locator for finding and selecting preferred pickup locations. Retailers can add an unlimited number of points of sale, relevant images, descriptive texts, and schedules. 
Return merchandise authorization (RMA) for managing returns. Even unregistered users can create return requests and monitor their progress. The RMA tool also allows administrators to assign returns to a specific point of sale.
If you already have an exciting ecommerce site on Magento, Salesforce Commerce, or Shopware, we can always help you to set up this functionality.
Contact us and get a BOPIS solution for your store.