10 business podcasts in English for ecommerce leaders
31 Aug, 2022 / 7 MIN read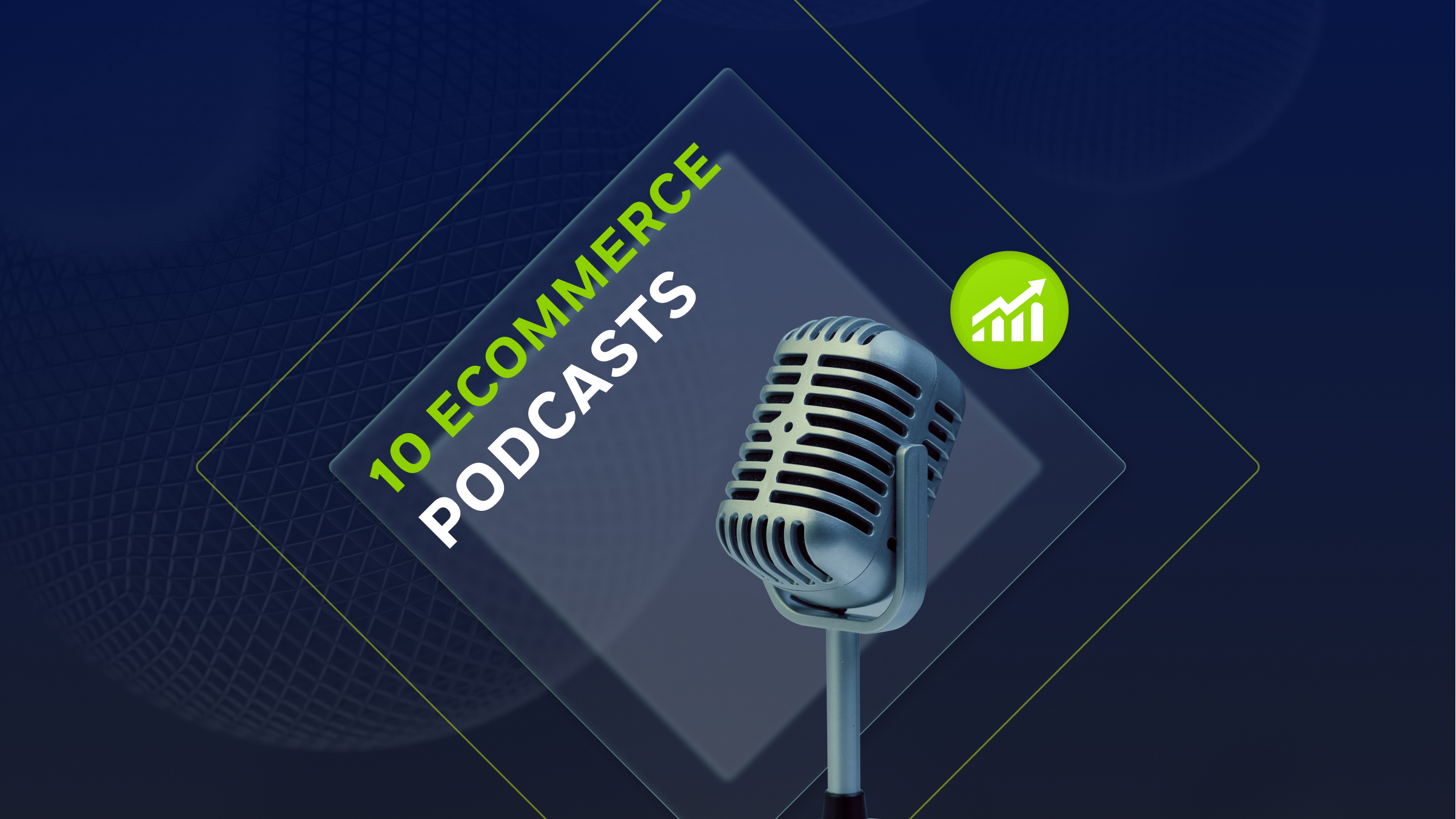 This one airs irregularly, that one has no script, and the other one is unavailable on your favorite platform. Sounds familiar, and you can't wait to get your hands on a list of curated, high-quality podcasts to choose from? Well, here you are!
We picked the top 10 ecommerce podcasts from creators who've been through the digital business journey and can recommend a smarter way to it. So if you want to learn a few things while in traffic or on the treadmill, subscribe to podcasts and tune in. Some extra benefits await you, too.
Why Are Ecommerce Podcasts A Good Idea?
Podcasts don't only pull back the curtain and give insider information on a subject you're interested in. They also help you:
Stay on track with industry news and trends. Unlike the usual news updates that inform you on anything and everything, you'll get a curated industry-limited insight into a specific topic. For example, listening to a podcast on tech in ecommerce, you'll understand how emerging technologies influence the ecosystem in general and your business in particular.
Find the expertise you need. Ecommerce isn't just about the tech side of the online store but also about design, regulations, and customer behavior. Podcasts cover these topics too. So when you need a refresher on the psychology of today's online shoppers, you'll know where to find it.
Get the point of contact to share your experience. Creating a personal brand is a must, and networking with motivated audiences is a great way to do it. Speaking on a podcast or at a conference is also a fantastic opportunity to promote your business to interested market players.
Understand the dos and don'ts of podcasts. Podcasts are powerful marketing instruments to advertise your business, draw traffic to your websites, and build a community around your company. And let's face it: at one point, you'll want to try it, too. By listening to them now, you will both stay in the know and take notes on how to build a better podcast that would draw more subscribers.
Ready to get inspired and motivated? Pick any podcast from the list and learn how to transform your business!
10 Best Ecommerce Podcasts
These podcasts are listed in no particular order – they all are top quality, cover a wide range of ecommerce topics, and offer useful info for entrepreneurs. Click on any to discover more and choose the best ecommerce podcast for you.
eCommerce Fuel
Source: The eCommerce Fuel podcast
If you're looking for a podcast covering not only the business side of ecommerce but also the entrepreneurial lifestyle, The eCommerce Fuel podcast is the one.
The team has over 400 episodes and over three million listeners on Spotify, Apple Podcasts, Google, and Stitcher. They focus on 'helping 7-figure store owners,' so you can rest assured you will find some useful information from major industry players. Our suggestion for a start? Learn how to unlock more profit from a Shopify store.
Future Commerce
Source: The Future Commerce
You cannot build an effective business strategy without understanding how the technology is evolving, how consumerism culture is shifting, or how the consumers' tastes and demands are changing. Shortly put, without knowing what the future holds.
The Future Commerce airs three different podcasts – Future Commerce, Step-by-Step, and Infinite Shelf – that talk about trends and news, how-to guides, and human-centric retail, respectively. They thoroughly research ecommerce and retail business so you can get commerce and culture insights, learn how various events affect buying behavior, and discover stats-backed opportunities in the ecommerce world.
Their episodes come with scripts and scannable point-based lists of main ideas. We thought the one on how to buy software well would be an excellent start to exploring their knowledge hub.
Honest Ecommerce
Source: Honest Ecommerce
Small to medium business owner? Honest Ecommerce weekly podcast featuring interviews with industry leaders, skill-improving courses, and a bottomless resource library screams for your attention! With 184 episodes on building relations with partners and clients, ROI improving techniques, email marketing, and more, you can surely choose what to educate yourself on and make fewer mistakes – and more money.
Honest Ecommerce podcasts come with transcripts, chapter markers, and resource lists. Our suggestion? Start with learning why value and memberships should always go together.
eCommerce Podcast With Matt Edmundson
Source: eCommerce Podcast
Available across platforms, eCommerce Podcast is your source of ecommerce questions answered in one-hour episodes. This podcast is focused on success stories and interviews, so be ready to meet a lot of big names and learn how brands navigate through obstacles in the digital realm to improve their online sales, grow conversion, or optimize platforms. We recommend exploring the episode on why YouTube is important for brands and how to leverage its power to prosper.
The Jason & Scott Show
Source: The Jason & Scott Show
Split into a deep dive and interview formats, The Jason & Scott Show podcast covers the news, events, and their impact on ecommerce evolution. The hosts focus on delivering fact- and research-based insights from leaders like Amazon. They also invite sales, design, UX, and technology specialists to share their experience.
The authors of the podcast love the annual prediction game: they make their predictions at the beginning of the year and then see which one became a reality in the end-of-year wrap-up. Check out the prediction 2022 episode to see how professional they are in their analytics.
The JetRails Poscast
Source: JetRails
From code optimization techniques, mobile platform enhancement hacks, re-platforming tips, and other secrets of the ecommerce world – the JetRails podcast shares hundreds of practical tips.
In addition to podcasts, the channel also provides news updates, reviews of useful tools, and a resource hub for Magento and ecommerce. One of the recent ones – Magento 2.4.5 and August 2022 Magento Ecosystem News.
My Wife Quit Her Job
Source: My Wife Quit Her Job
Got in the ecommerce business after quitting your 9-to-5 job and want to know how to make it work?
The My Wife Quit Her Job podcast hosted by Steve Chou is a perfect choice to learn from people who've been there, too. Steve interviews ecommerce gurus and reviews resources and tools to support you through your self-made wo/man journey.
This time, we decided to inspire you with a crazy story about how to make a million in less than a month. Intrigued? Start with this episode featuring an online course creator Amy Porterfield.
2X eCommerce
Source: 2X eCommerce
Another old hand at the digital business podcasts, The 2X eCommerce show invites specialists from 8-figure fast-growing businesses to share how they got where they are.
Available for subscription on Spotify, Soundcloud, iTunes, and Google Podcast, the show offers as many as 363 one-hour episodes on accelerating your business growth by adopting better technologies, practices, and approaches. Each episode comes with a detailed covered topics list, timestamps, links to resources, and a transcript.
We found an SEO episode quite useful for a start as it features insider information from the Head of Strategy at Yoast.
Women In Retail Talks
Source: Women in Retail Talks
Looking for women's perspectives on ecommerce business and lifestyle? Don't miss the Women in Retail Talks show! Here you'll find some engaging stories on work-life balance, corporate career growth, women-led innovations, and case studies presented by businesswomen worldwide.
Where to start with this one? Learn about the retail trends to watch in 2022 from Sucharita Kodali, Forrester's vice president and principal analyst.
Female Startup Club
Source: Female Startup Club
Another female-led show, the Female Startup Club podcast, invites women-founded businesses to discover their paths to startup success. They have over 90 episodes published in the formats of quick questions, fave hits, and how-tos conversations with the brand founders around the globe. The podcast is available for subscription on Spotify and iTunes.
To get hooked, check this success story on how to become a millionaire in one year from Margaret Wishingrad. She's a founder of Three Wishes, a US brand of healthy and tasty cereal that became extremely popular in the USA and beyond.
Ready To Get Inspired?
The ecommerce podcasts we mentioned will inspire and enlighten you on how to make your ecommerce journey profitable and fun. From success stories to case studies and how-to episodes – pick what's most relatable to you and start transforming your ecommerce business today.
And if you need more niche industry knowledge and proven tips – our team of ecommerce specialists is ready to become your personal guide in the digital commerce world!