VIRTUARACING GT3 Cup sponsored by Interactiv4
21 enero, 2016
Today, thursday 21st of January 2016 the Virtuaracing GT3 Special CUP will take place. A simracing race in the virtual track of Nürburgring GP, with the GT3 cars, the BMW Z4 and McLaren MP4-12C.
A race by teams formed by 2 drivers, which will have to choose a different car each. One will drive the BMW and the other the McLaren.
Over 90 minutes the will fight for victory wihout any kind of help. They will fight both individually and as a team.
The grid has been selected through invitation by the organizers, the best national and international teams of the actual simracing panorama.
Between them we can find drivers like Greger Huttu of Team Red Line, five times F1 world champion in iRacing. Also the Radicals Online team with Mack Bakkum or Wyat Gooden and the italian Team GT with Luigi Nespolino.
In the national side we have incredible teams like darContigo Racing Team with the very known Jesus Sicilia, Pit Demons with Rufi Muñoz, Team JIM with Miguel Ballester or Aday Coba from the Iberica Racing Team, between others. A great set of drivers which will fight without any doubt for the victory.
Here a chart with all the teams and drivers that participate: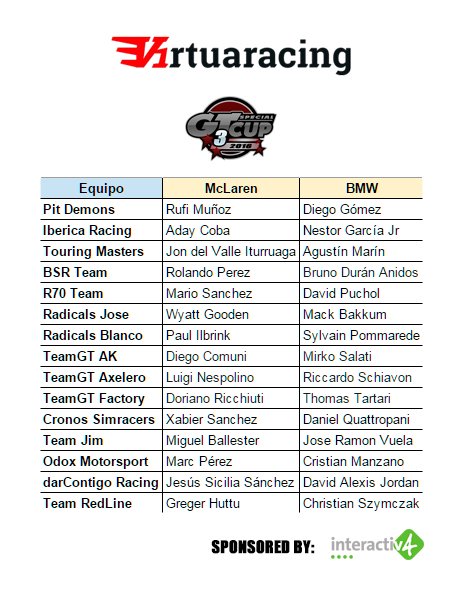 Pure competition and promotion of Simracing, where the most important is the fair play.
The rules are a rolling start, dynamic weather and open setups for the cars. Driving aids are disabled. The pitlane will remain open during the entire race and the fuel tank won't have any restriction. There will be a limit of 17 incidents in race session.
 15 teams, 30 drivers, 2 cars to choose and a lot of skill. This is how the points will be obtained:
 Qualifying session will start at 21:45 GMT +1, all cars will share the track during qualifying. At 22:00 GMT +1 the Virtuaracing GT3 Special CUP will start.
The viewers will be able to join us through social networks like the YouTube chat or by Tweeter with the #GT3SpecialCup hashtag. The best comments will be streamed live and commented.
The race is organized by Virtuaracing, that returns to their live streams after the past GT3 CUP in 2015. This time sponsored by Interactiv4 which helps out with everything necessary for this special event.
The live stream will be presented by Darwin Fernandez next to Alejandro Riesco through their official YouTube channel, VIRTUARACING today, thursday 21st starting at 21:30 GMT+1.
For now, to whet your appetite… here you have the promotional video of the race!
---
Race link:
Categoría
Compartir
Suscríbete a nuestra newsletter
También te puede interesar
Usamos cookies de terceros para mejorar nuestros servicios y obtener datos estadísticos de tus hábitos de navegación. Si continúas navegando consideramos que aceptas su uso. Puedes obtener más información en Política de privacidad y cookies