MONEI payments official extension for Magento 2, developed by Interactiv4
25 May, 2022 / 3 MIN read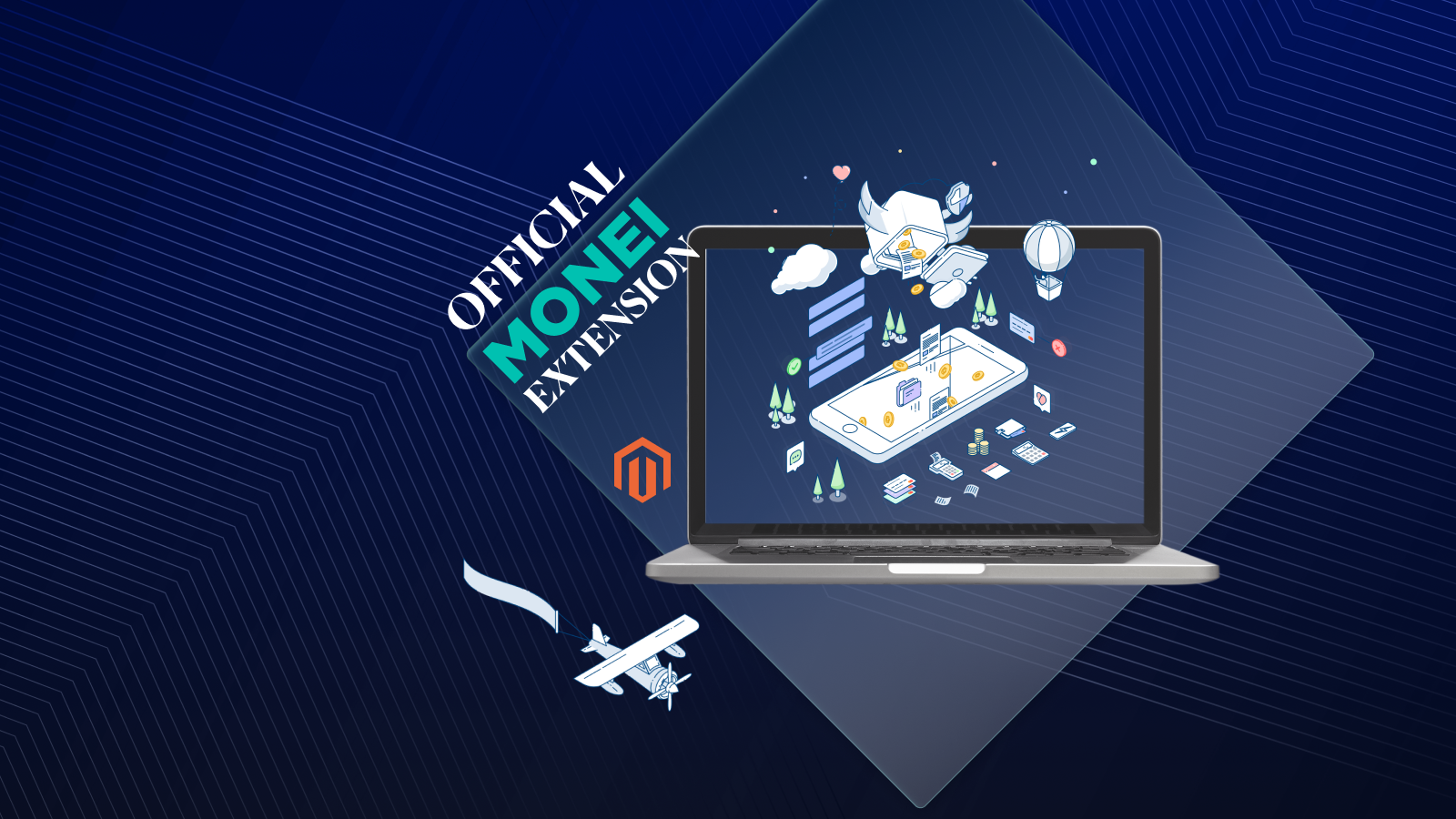 We at Interactiv4 are pleased to announce the release of our MONEI payments official extension for Adobe Commerce and Magento Open Source, developed by our team.
As more and more businesses integrate their Adobe Commerce or Magento Open Source stores with this payment solution, the goal of this project was to make this option even easier.
We succeeded, and now you can connect your ecommerce with MONEI even faster.
The MONEI extension overview
This extension supports the 2.4.3 version of Adobe Commerce and Magento Open Source and includes the following:
Full integration with MONEI's web services that enables your business to process ecommerce transactions.
Automatic invoice generation.
Automatic checking of payment status.
Automatic payment capture in MONEI during invoice generation process in the admin panel of your store.
Automatic payment cancellation in MONEI during the order cancellation process in the admin panel of your store.
Custom order statuses for better alignment with your business flows.
Installing the extension and configuring it as per the ecommerce store instructions lets you easily manage payments through MONEI's platform, and in record time.
If you want to learn more about the extension and explore the demo, visit this link.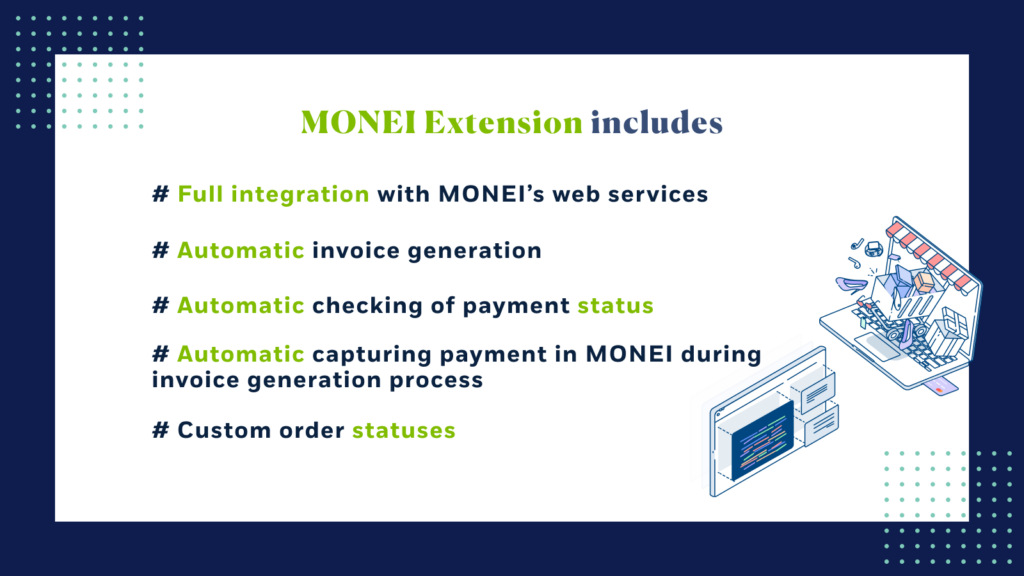 About the MONEI payments platform, its benefits and functionalities
MONEI aggregates many payment methods into a single platform to help you improve payment processing efficiency and boost your customers' experience. With one connection, you can accept the following payment methods:
Payments with internationally accepted credit card brands like Visa, Mastercard, JCB, Diners Club International, and Discover.
Direct debit payments with options such as SEPA (Single Euro Payments Area).
Local payment methods including peer-to-peer payment app Bizum (Spain) and Multibanco (Portugal).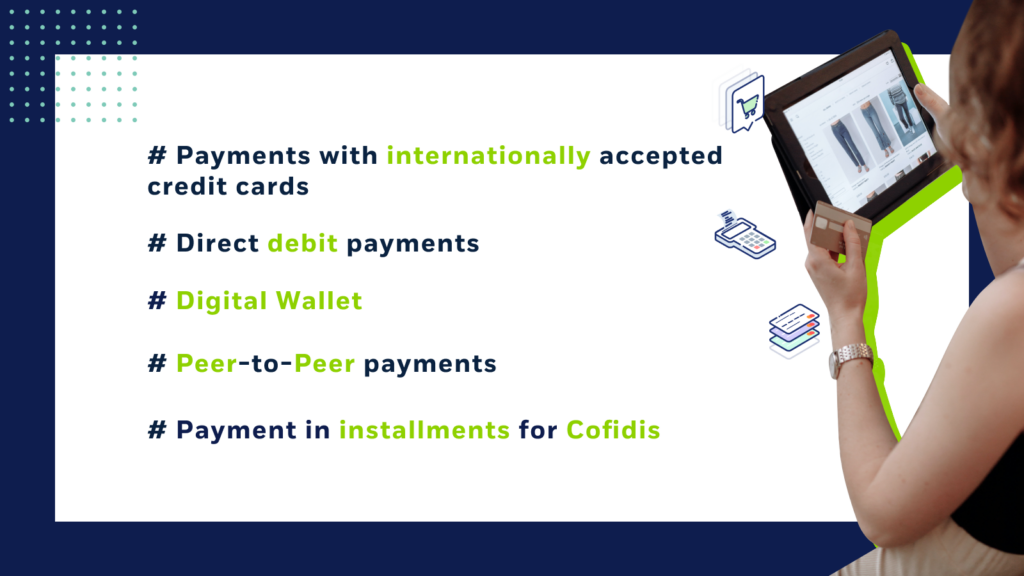 Furthermore, MONEI provides you with a complete set of key industry services to cover every desirable need and assurance you require in a modern payment solution. Here's a look at some of these features:
Hosted Payment Page: this prebuilt payment page makes it easy for you to build a first-class payment experience with multiple payment methods. It also has a fully responsive design and includes support in 13 languages.
Custom Checkout: this option lets you securely collect payments using different payment methods; an innovative way to prevent shoppers from abandoning checkout.
Pay By Link: MONEI's Pay By Link feature lets you create safe payment links configured by you and hosted by MONEI. It provides you total flexibility on how and when payments may be requested from customers.
Payments Orchestration: an option that allows you to have full control and flexibility to direct customer transactions to multiple payment processors from a single dashboard. Payment routing leads to higher transaction approval rates, thus higher conversions.
Subscriptions: the option to incorporate subscription payments enables customers to pay faster, saves time on billing, builds trust, and helps you earn recurring income.
The significant benefits MONEI offers make it an easy payment solution choice. And integrations are quick and easy to implement.
With MONEI, you'll be able to access centralized data and analytics that will provide you with useful insights on your business status. And you won't have to worry about payment safety and compliance; all of this comes standard.
If you want to take a closer look at MONEI's services visit its website, and as always, we remain at your disposal for any questions or inquiries you may have regarding the extension.