Mirakl and the Magic of the Marketplace
27 Jan, 2021 / 3 MIN read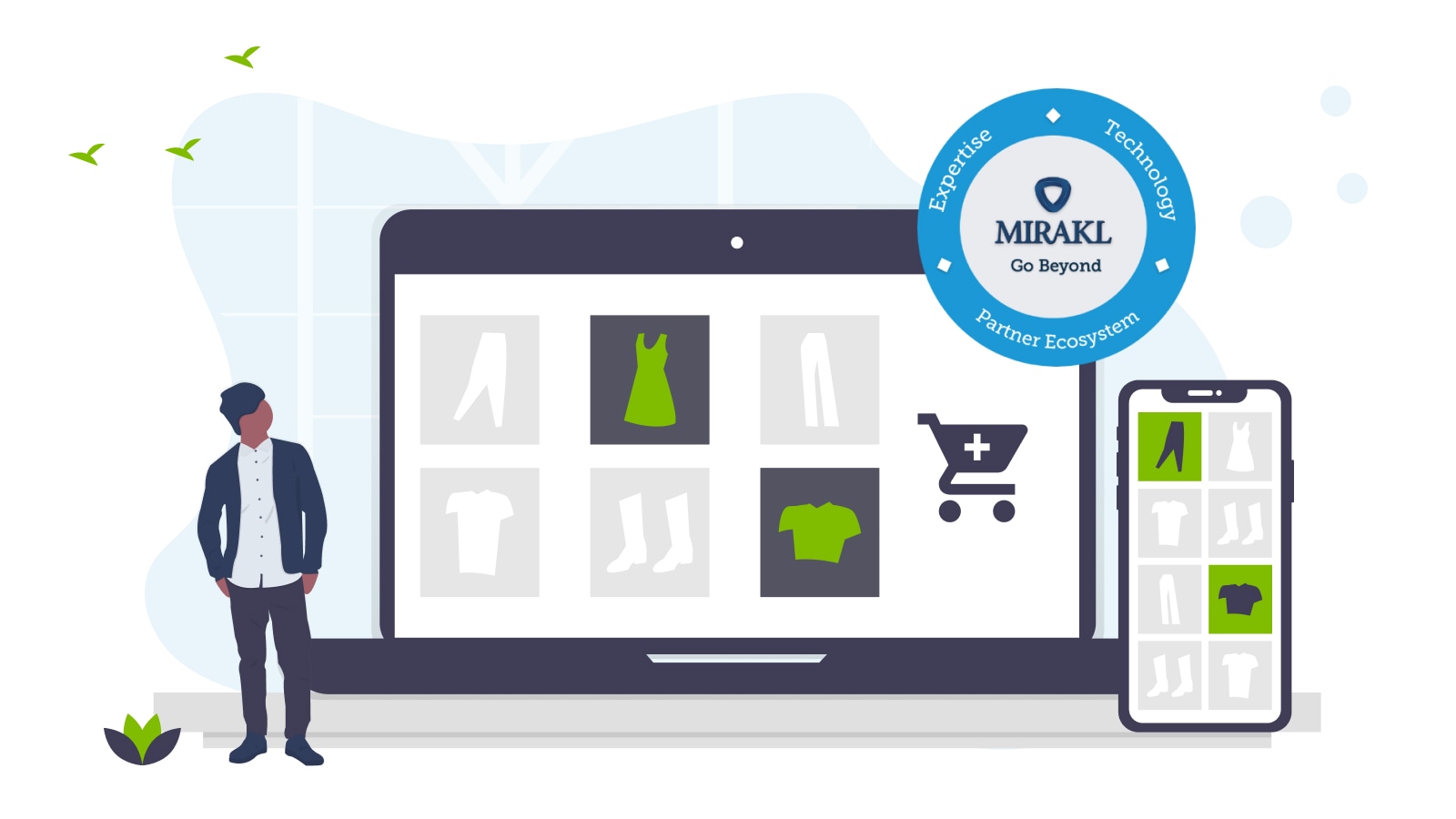 This year we reached a Partnership agreement with Mirakl, choosing us as the leading consultant and integrator of its marketplace solution in the Spanish market.
Mirakl is the only marketplace SaaS platform that empowers both B2B and B2C businesses to launch and grow a large-scale marketplace, thus being able to offer more, learn more and sell more by increasing the amount of products available for buyers, increasing the lifetime value of their customers, and anticipating buyer needs and preferences. Mirakl is a turnkey solution committed to user experience and easy to integrate.
B2C: More Products, More Sales, More Information
By evolving into a Marketplace model, B2C brands can exponentially increase their catalog of available products, providing more information to personalization engines and promoting omnichannel strategies.
Using a traditional eCommerce model means that product supply, stock, prices and offers must be managed by the brand, whereas, using Mirakl, all this work is delegated to sellers, and the brand only acts as a marketplace controller and validator.
Likewise, stock, fulfillment, logistics, transportation, invoicing, customer support and returns are also under the management and responsibility of the seller, offering savings in efforts and operational costs.
Therefore, marketplace operators can focus their efforts on attracting traffic by means of campaigns and marketing, on controlling catalog variety and organization, on payment methods, and on acting as a mediator in the event of any dispute with end customers.
There are many other noteworthy advantages, such as the following:
The product catalog is exponentially expanded, thanks to a quick onboarding of new sellers that, in a matter of days, allows the products offered by the store to adapt to new market trends and needs without taking unnecessary risks.
Since there are more products available, they can be complemented with recommendations (cross-sells and up-sells), more services can be added, and the average order value can be increased.
Since the catalog is larger, more pages are indexed, improving SEO by increasing site traffic organically and lastingly.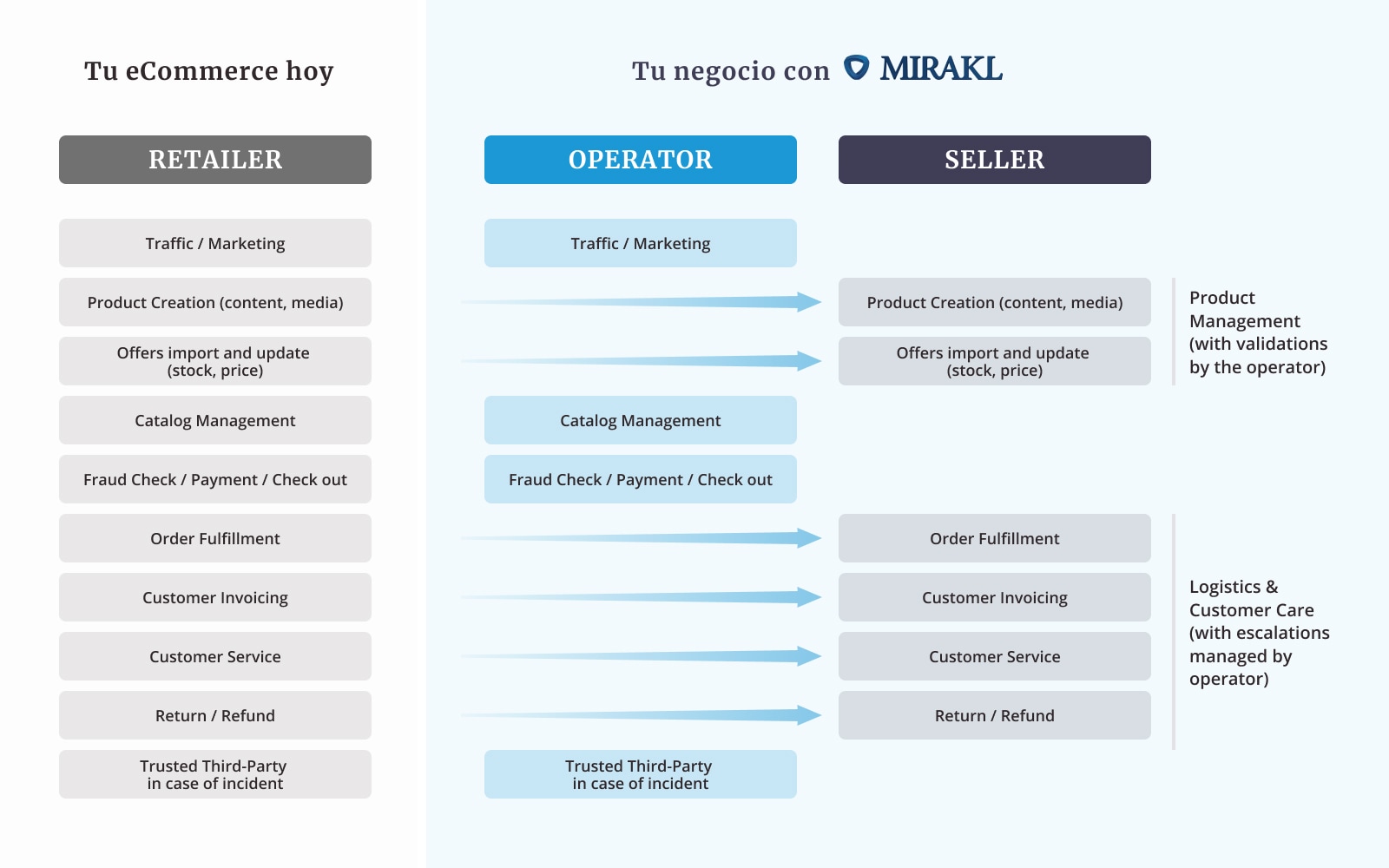 B2B: Simplified Purchases without Channel Conflicts
Mirakl can be perfectly integrated into B2B models, where there already is a captive customer and where the purpose is to achieve greater satisfaction and to create the expected customer experience, integrating more products, suppliers and competitive prices into a single centralized sales platform.
B2B businesses following a marketplace model:
Maximize their sales: enabling customers to find what they need by displaying 100% of their inventory.
Offer an end-customer, distribution-channel and manufacturer digital experience within the same ecosystem, managed as a marketplace.
Obtain information on end customers to adjust their business and product strategies.
Digitalize their distribution channel, without creating a channel conflict.
Magento and Mirakl share a common goal: to maximize your turnover and profitability.
Magento facilitates omnichannel success, integrating the physical and digital world through unique shopping experiences. Mirakl focuses on drastically increasing product supply, driving more traffic to the store and exponentially multiplying the number of new customers and their loyalty, increasing revenues and profits.
As Mirakl partners, at Interactiv4 we specialize in store integration so you can start operating as a marketplace.
Evolve and get ready: the eCommerce of the future is here.