¿Por qué elegir la plataforma B2C Commerce Cloud de Salesforce?
13 Mar, 2023 / 7 MIN read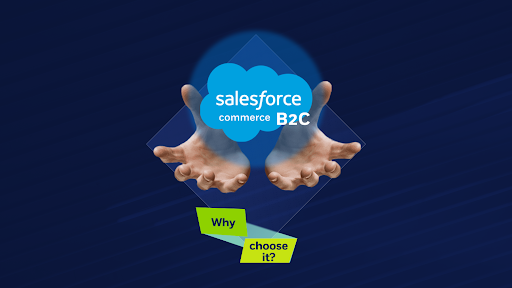 Introduction
If you're currently deciding which ecommerce platform to launch a new store, or replace an outdated one, this article will help you understand why Salesforce B2C Commerce Cloud may be the right fit for your business.
We'll be focussing on three key advantages:
The cloud-based Software-as-a-Service (SaaS) model of B2C Commerce Cloud.
This relieves you of the burden of managing infrastructure, and drastically reduces the impact of upgrades.
The feature-richness of B2C Commerce Cloud.
Getting more out-of-the-box accelerates time-to-market, and reduces or removes dependency on plugins, custom development and external services.The ability of B2C Commerce Cloud to create a unified customer experience across multiple media and forms of communication, beyond the storefront, especially as part of Salesforce's broader family of customer-focussed services and Customer 360 vision.
Overview and History
The ecommerce platform known today as B2C Commerce Cloud started life in 2004 as Demandware. By the time of its acquisition by Salesforce in 2016, Demandware was a Leader in Gartner's Digital Commerce Magic Quadrant, serving hundreds of millions of end-consumers, with customers such as L'Oreal and Marks & Spencer.
Since then, B2C Commerce Cloud has maintained its position as a Leader in the Magic Quadrant and is also acknowledged as a Strong Performer in the latest Forrester Wave Report.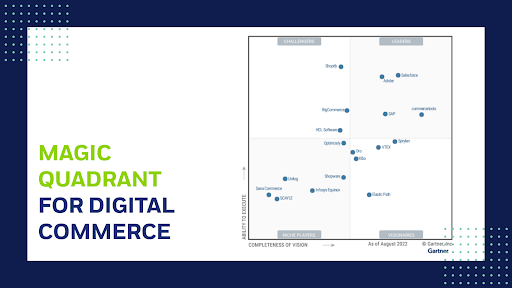 Meanwhile, Salesforce has continuously evolved B2C Commerce Cloud, incorporating new technologies, and integrating it into its wider suite of cloud services, to form part of its vision of a unified, end-to-end, customer experience, from first contact to loyalty.
A Cloud-Based Solution
Designing, building and maintaining a secure, scalable infrastructure for an installed or "on-premises" ecommerce platform is often a highly specialized and costly endeavor. With it comes the need to set up deployment, monitoring, and backup systems, CDN and caching, and the complexity of platform upgrades and security patching.
The cloud-based, Software as a Service (SaaS) model of B2C Commerce Cloud means Salesforce takes charge of these areas for you. It leaves you free to plan your Black Friday campaign, rather than load testing your store to ensure it will survive the big day.
A powerful example of the support you get from the B2C Commerce Cloud service is the way your merchandising team can work on new content, catalog changes, or promotional campaigns in the staging/UAT environment, and have these changes automatically replicated and deployed into production. Just compare the effort required to set up such a process if your devops team were responsible for building the staging and production environments, and selectively replicating configurations between them.
Out-of-the-box: Then Main Features of B2C Commerce Cloud
The more an ecommerce platform can do "out-of-the-box", and the better it does it, the less you will have to depend on plugins, external services and custom development to fill gaps. This adds up to faster time-to-launch and lower maintenance costs.
B2C Commerce Cloud is a feature-rich solution. It excels in core areas, such as catalog customization, visual merchandising, flexible inventory, pricing and promotions management, fast checkout, SEO, mobile payments, internationalization, and so on.
But it also includes more advanced features, often contributed through external services, plugins, or custom development with other platforms, like AI-driven personalization, A/B testing, social media and marketplace integration, and powerful drag and drop content creation.
Let's take a look at a few of these features in more detail,
Flexible promotional campaign management The system of campaigns and promotions in B2C Commerce Cloud is one of the most sophisticated there is,
Scheduled campaigns combine "experiences", including content, like promotional banners, coupon codes, specific product sorting, and promotional rules. The promotional rules engine itself is marvelously flexible, encouraging creativity and innovation. For example, you can create seasonal sales price books, complex product combination discounts, and allow your customers to choose their free gift from a rule-generated selection,
You can limit campaigns to specific customer segments, defined by characteristics such geographical location or number of visits, or activate campaigns only when the customer arrives from specific affiliate links.
Content Management B2C Commerce Cloud's drag-and-drop page designer tool, is based on the model of Salesforce Experience Cloud. It reaches even into templating of your category and product detail pages, meaning that you don't need frontend developers to create rich content experiences.
Customer Service Center If you take orders over the phone, you may find that the complex, enterprise admin panels of many ecommerce platforms are too slow and cluttered for the call center. B2C Commerce Cloud includes a specialized Customer Service Center panel, ergonomically optimized for the workflows of phone-based sales reps, such as searching for and creating customers and placing orders.
Social and Marketplace Integrations for example, shopping on Instagram, catalog and advertising integrations with Facebook and Tiktok
SEO B2C Commerce Cloud includes a host of features for improving organic search results. These include flexible rules for creating user-friendly URLs, for pages and key search refinements, and for generating meta-data with formulas and placeholders.
AI driven search and recommendations B2C Commerce Cloud's Einstein service provides built-in, AI-based personalized product recommendations,, predictive search and search result sorting.
Plug and play B2C Commerce Cloud comes with a ready-made, fully responsive site, incorporating a broad range of its functionality. In the simplest case, you can restyle it to your brand image, configure, set up your catalog and get started.
Headless In time (or at first), you may want to move to a headless / PWA model. B2C Commerce Cloud can be fully headless, and provides its own PWA kit (which you may or may not choose to use). But you can also evolve to a headless approach, freely mixing simpler, potentially offline catalog pages using PWA, with traditionally-served, transactional pages such as cart and checkout.
Extensibility Of course, if there is some requirement not covered out of the box, B2C Commerce Cloud is extensible by custom development, and benefits from a rich ecosystem of plugins/connectors with payment gateways, ERPs, PIMs, AR services, tax calculators, marketplace platforms like Mirakl, and so on.
Unified Customer Experience
Beyond the storefront, ecommerce encompasses a host of other tools and activities, from marketing to logistics to customer service to reporting to analytics and continuous improvement.
Picking the right tools, integrating them technically, and aligning the way you use them around the delivery of a unified, end-to-end customer experience, is a major challenge for many businesses.
Here, B2C Commerce Cloud's seamless technical integration with a range of Salesforce solutions can provide a major head start, making it the logical choice, especially if you already use Salesforce's CRM or Marketing Cloud products. Salesforce's other cloud services include:
Salesforce's flagship Sales and Service Cloud solutions (Customer Relationship Management)
Salesforce Marketing Cloud (email marketing)
Order Management (fulfillment), ,
Experience Cloud (advanced content and journeys)
Tableau (analysis and reporting)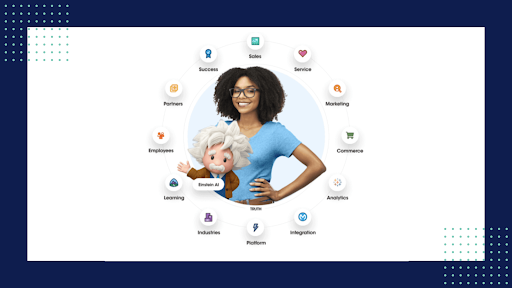 Beyond the technical integration between your ecommerce, CRM and email marketing platform is the methodology of using them together that underpins Salesforce's Customer 360 vision. In short, B2C Commerce Cloud, combined with its other B2C related cloud services, provide a working template that lets you bypass many of the time consuming tasks of tool selection, integration, and alignment of processes.
How Interactiv4 can help with Salesforce B2C Commerce Cloud
Interactiv4 is a certified Salesforce partner, specializing in delivering ecommerce solutions for more than 10 years for mid-sized to enterprise level companies. Salesforce B2C Commerce Cloud is a good fit for thise size of companies, whereas for smaller businesses we would recommend to look into other ecommerce platforms.
To deliver ecommerce solutions 2x times faster and in a more cost effective way, we've created our Optimo Accelerator for Salesforce Commerce. This allows us not only to reduce time-to-market, but deliver more stable solution.
And, in case you need help to integrate with other tools from the Salesforce portfolio like CRM, Salesforce Service Cloud, Tableau, Mulesoft, this is where we can also provide help and services being a part of Wam Global, offering services in Customer 360.
So, if you want learn more about Salesforce B2C Cloud, and understand whether it is a good match for your business or have a project in mind already, drop us a line,